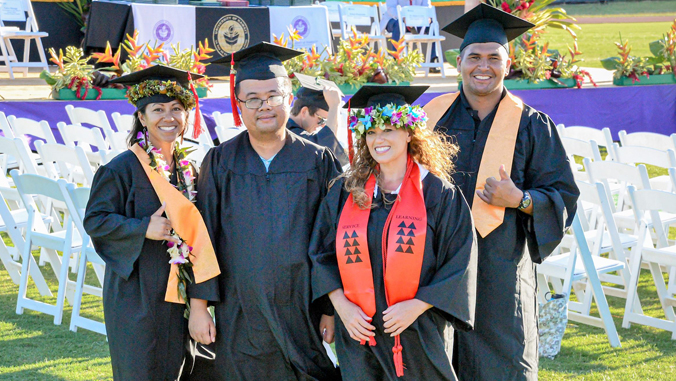 During any given semester upward of 300 students, representing about 10 percent of the University of Hawaiʻi–West Oʻahu's enrollment, list their permanent home addresses as being on Maui, Hawaiʻi Island, Kauaʻi, Molokaʻi or Lānaʻi. The students take courses through online classes or via Interactive Television, where classes are live streamed, allowing them to to participate virtually as the course is being taught on the UH West Oʻahu campus in Kapolei.
UH West Oʻahu has the highest percentage of distance and online courses and programs among UH campuses, according to a 2017 Board of Regents report (PDF). It is an area of focus as the campus seeks to increase its enrollment. In 2018, the percentage of UH West Oʻahu students enrolled in at least one distance education class was 79.1 percent. The percentage of UH West Oʻahu students enrolled in all distance education classes was 37.7 percent.
At the end of the spring 2019 semester, 55 graduates earned degrees from UH West Oʻahu, but took their classes while residing on the neighbor islands. This included 31 graduates on Maui, 12 on Kauaʻi, 7 on Hawaiʻi Island, 3 on Molokaʻi and 2 on Lānaʻi.
On
Kauaʻi
Rheif Callahan, a Kauaʻi resident who earned a bachelor of business administration with a concentration in accounting, was among four UH West Oʻahu students accepting their degrees during Kauaʻi Community College's May 10 commencement ceremony. Under an agreement, distance learning students can participate in the college's ceremonies and receive their degree from a UH West Oʻahu representative.
"All in all, it was a great experience," Callahan wrote in an email. "I had a lot of great instructors, even though I never met them, and despite being on another island they were quick to respond to my questions, and I even felt I got to know them a little bit. Thank you Katie Landgraf, Leslie Rush and Edward Keaunui for helping me get my BA and making a positive impact on my life."
For neighbor island students, UH West Oʻahu's distance learning program (and those from other UH campuses) are a way to pursue a four-year degree without having to leave home or uproot families to move to Oʻahu. Callahan, a 2008 graduate of Waimea High School, was able to study accounting without having to give up a career he'd established on Kauaʻi.
"I play music for income and through it, I was able to pay for my education while still having ample free time to study," wrote Callahan, a bass and guitar player in several groups on the Garden Island. He was able to keep the regular gigs that would have been lost if he had moved.
University Centers
Callahan took mostly online courses and when required, visited Kauaʻi CC's University Center for advising. According to Gloria Niles, UH West Oʻahu director of distance education, university centers serve as "brokers" with UH campuses that offer baccalaureate or higher degrees. That allows neighbor island residents to earn bachelor's and graduate degrees or certificates from the other island campuses, including UH Mānoa and UH Hilo.
Besides Kauaʻi, UH West Oʻahu partners with university centers at UH Maui College and the Pālamanui campus of Hawaiʻi CC for local support services such as proctoring of exams and facilitating communication among campuses. Callahan, who earned an associate degree in liberal arts from Kauaʻi CC, said he liked the freedom, convenience and cost of getting a UH West Oʻahu degree through distance learning.
He was also happy to complete his college career in front of family and friends at Vidinha Stadium in Līhuʻe.
Callahan wrote, "The best part about the commencement ceremonies was that I got to congratulate all of my friends that were graduating from KCC and to meet new friends who were also graduating distance students."