The transition from high school to college can be challenging to navigate, and even the most motivated students may need a little extra community help. For 50 years, the College Opportunities Program (COP) at the University of Hawaiʻi at Mānoa has created an alternative pathway for for approximately 3,800 Hawaiʻi students who had the drive to enter university but may not have met the minimum requirements.
The backgrounds of COP students vary. "Some of them didnʻt take high school seriously," said COP Director Michael Maglaya. "Some were told by those close to them that there was no way they would succeed in college. Some could not see how they could pay for their college expenses. Some came from families where neither parent attended college."
The statewide program provides a free six-week intensive summer course that requires participants to live on-campus and enroll in classes focused on upgrading academic and social skills. Those who successfully complete the COP program are admitted to UH Mānoa in the fall semester and advance to COP's First-Year Academic Program. Approximately 95 percent of students in the summer program successfully pass and gain admittance to UH Mānoa.
Finding a path and a family
This summer, COP had 61 students including Cody Retuta and Emelie Ogata-Tambua, recent graduates of Leilehua and Radford high schools, respectively.
Retuta, who is interested in pursuing creative media and a possible career in teaching, credits his high school college counselor at Leilehua for the encouragement. "She suggested COP would be a good transitional period for me to get to know the people, the dorms, how UH functions, and overall it has worked out very well," he said.
Through the program, Retuta enjoyed not just participating in study groups, but also creating them. "When we're studying for tests, I make Kahoots or Quizlets [a game-based learning platform and app, respectively] to make it easier for us to study," he said. "I'll bring out my projector and we'll be all competitive. Sometimes we get a little loud, but we still have fun and we're learning at the same time."
For Ogata-Tambua, a sense of family was the most important thing she wanted from her college experience, and COP provided that support. "I ran into people I grew up with in elementary school, and then I met people I never knew were from this island," she said. "The neighbor island students, they've never been here, so it made it easier to get along. There was a lot of bonding between a lot of us."
"At first, people think [COP] is for students who can't make it, but it's not," she added. "It's more than that. It's your family. They help you."
While she originally chose one educational path, Ogata-Tambua found a better fit in dental hygiene through COP. In addition, she hopes to create a college career center for high school students who, like her, would benefit from the support and guidance. "Where I'm originally from, there isn't a college career center," she said. "So I plan to make my own not just for college, I want to help students find jobs too."
50 years of guidance and support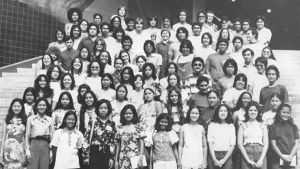 COP was established in 1970 as a federally-funded model cities project aimed at recruiting residents from Waiʻanae, Nānākuli, Kālihi and Pālama to pursue a postsecondary education. In 1973, the Hawaiʻi State Legislature authorized the release of funds to continue the COP program for residents throughout the state. Room, board, textbooks and instructional expenses are covered by COP, which has provided the support and structure to help approximately 3,800 students attend UH Mānoa over its 50 years.
In commemoration of COP's 50 years of helping students to successfully start their career journeys, the Central Pacific Bank Foundation committed $50,000 to provide scholarships for students in the program. Denis Isono, President of the Central Pacific Bank Foundation attended the COP awards banquet on August 8 to celebrate with the students and their families and to present the donation.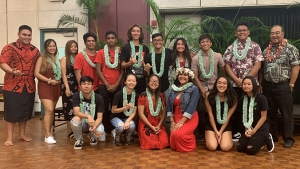 "COP drives positive change in our community through education, and the Central Pacific Bank Foundation is well aligned in this mission," said Isono. "We know these students are the leaders of tomorrow, and we're proud to support a pathway of higher education and work readiness for their future career success."
Seeing the continued success of COP students has been rewarding for Maglaya. "Giving these students an opportunity to try college and watch them succeed and grow in the process has to be the most gratifying aspect of my job," he said. "When they graduate from Mānoa, that has to be the icing on the cake for the COP staff."
Going forward, COP will continue to inspire students to start on a path that they may have considered closed to them. For the 2019 summer program, all 61 COP students passed and will begin their studies at UH Mānoa in the fall. COP has a consistently high success rate, but this is only the third time in Maglaya's 17 years with the program that the entire class, including Ogata-Tambua and Retuta, has passed.
Said Retuta, "The COP program has helped with my confidence in college, cleared up a whole bunch of my doubts and, above all, it's been a good program."
—By Heidi Sakuma