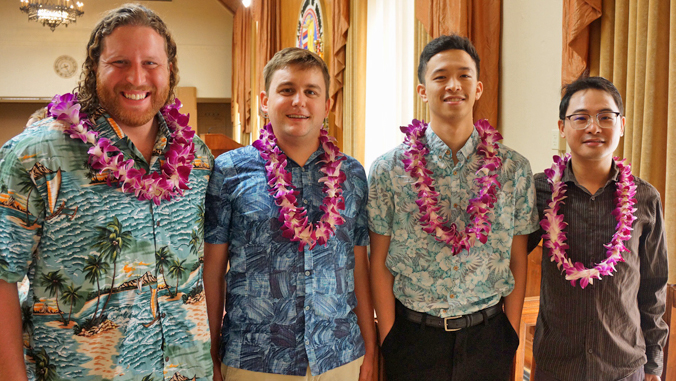 KTUH, a student-run non-commercial educational radio station broadcasting from the University of Hawaiʻi at Mānoa, was honored by the Honolulu City Council on September 4 in recognition of its 50th anniversary. KTUH operates with a staff of more than 70 student and community volunteers annually.
In 1966 KTUH started as an AM closed circuit operation that reached UH dormitories and the Hemenway Hall lounge. In 1969 KTUH was issued its first educational FM license. Through the years the station increased its range and currently broadcasts on 90.1.
KTUH student and volunteer DJs offer a wide array of music and talk shows. It continually expands its music selection and educational content.
"KTUH is a student-run organization that functions as a learning lab allowing for exploration in media that reaches beyond our FM signal. Such students are the future of media in Hawaiʻi," said Bjarne Bartlett, KTUH program director.
Students Ari Eisenstat and Crystal Kwok host talk shows and podcasts addressing topics such as LGBT and women's issues, sustainability and current affairs. News Director Jason Ellinwood's English-Hawaiian weekly news report is a 2019 finalist for a College Media Association award. KTUH is also home to Monday Night Live, a venue for local performers, and Kīpuka Leo, a weekly all-Hawaiian language show.
During the ceremony, the City Council extended a heartfelt mahalo to the station's supporters and volunteers who helped KTUH stay true to its mission of providing quality programming for its listeners.
"KTUH is incredibly grateful to our local government for publicly recognizing the contribution of college radio to our community, and we hope to continue this tradition for many more years," said Bartlett.
KTUH will celebrate its 50th Anniversary with a concert on October 4 at Hawaiian Brian's.