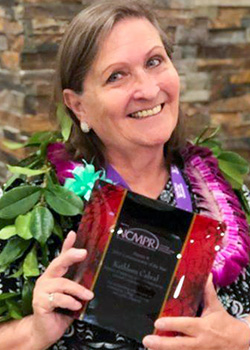 Kathleen Cabral, marketing director for Leeward Community College, was named the District 6 Communicator of the Year at the National Council of Marketing and Public Relations (NCMPR) District 6 conference on September 25, in Park City, Utah.
One of the most prestigious awards presented to an NCMPR member, the Communicator of the Year Award recognizes a two-year college marketing, public relations or communications professional who has demonstrated leadership in the area of college communications and marketing. Emphasis is placed on accomplishments within the past year.
Cabral has overseen the strategic marketing direction of Leeward CC through the most transformative years of its time. Her leadership proved invaluable as the college began to expand with new programs, services and facilities. Despite the challenges of ongoing renovations and new construction, she led the execution of a full slate of 50th anniversary activities, launched an impressive targeted marketing campaign and opened a new relocated branch campus at Waiʻanae Moku, while still finding time to contribute to the campus strategic planning council and to the UH Community College System marketing committee.
"Kathleen is one of those exceptional people who is creative, smart and adaptive to change," said Leeward CC Vice Chancellor for Academic Affairs, Della Teraoka. "She uses her skill set to find new ways to engage students with the college. More than that, she values the connections with our students and our community, and she is able to continually come up with innovative ways to tell our story."
The District Communicator of the Year award is presented annually at each of NCMPR's seven districts, and district winners are then considered for the national award to be awarded at the National Conference each March. This year's National Conference will be held in Orlando, Florida, March 22–24, 2020.
UH Community Colleges Marketing Director Susan Lee was named District 6 Communicator of the Year in 2018.