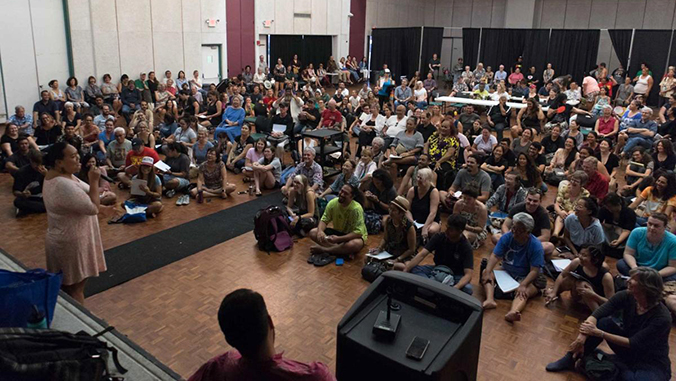 The turnout for a free Hawaiian language class on the University of Hawaiʻi at Mānoa campus was so large that organizers needed to change the venue from a Campus Center conference room to the Ballroom.
More than 200 people showed up Wednesday, January 22, for the first of 15 free weekly, non-credit ʻŌlelo Hawaiʻi classes hosted by the Associated Students of the University of Hawaiʻi (ASUH), the undergraduate student government at UH Mānoa.
Paige Okamura and Akea Kahikina are graduate students, fluent ʻŌlelo Hawaiʻi speakers and instructors for the classes.
"I really wanted to cry. That overwhelming physical presence of people almost shows more what they value here than what I could write down," Okamura said.
The course is offered in partnership with Hawaiʻinuiākea School of Hawaiian Knowledge. ASUH Sen. Raiyan Rafid introduced the bill, which appropriated funds for the ʻŌlelo Hawaiʻi classes.
"I did think that people were going to show interest because there is a need," Rafid said. "When I was talking to people, everyone was supportive of this vision that I had, and it wasn't to this capacity. But, I'm glad people showed up."
Instructors taught basic conversational phrases and had participants practice with one another. The class is free of charge to all UH Mānoa students, faculty, staff, alumni and community members. No registration is required.
Classes will be held on Wednesdays from 3–4 p.m. The Campus Center Ballroom is the location until further notice, according to ASUH. For more updates, see the ASUH site.
"It changes the expectation for myself," Okamura said. "I think it requires much more planning on a bigger scale because I was planning for a class of maybe 30 and much more interaction. And so, if we're looking at 200 people every week then it requires me to plan differently."
—By Marc Arakaki