Windward Community College's Gallery ʻIolani explores the risks and faith of 12 artists' journeys in an exhibition titled, Where Are We? The artwork will be open for public viewing from January 31 to March 1.
The answer to the question, "Where Are We?" in regards to where we find ourselves individually or collectively, depends upon the moment we choose to look at, where we have been in the past and where we are at this moment.
"This is a significant exhibition showing 12 of Hawaiʻi's most prominent artists together at the same time and in the same place," said Gallery ʻIolani Director Toni Martin.
The 12 artists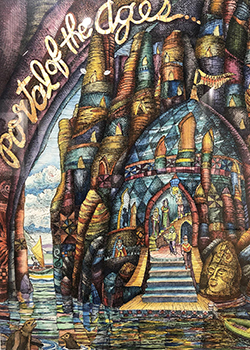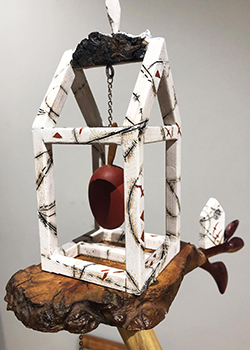 David Behlke, retired professor of visual arts and director of Koa Art Gallery at

Kapiʻolani

Community College working in multiple media, drawing, painting and stained glass fine art.
Kauka de Silva, a Native Hawaiian ceramic artist and sculptor born in Hilo; a faculty member in Art at

Kapiʻolani

Community College since 1988.
Sanit Khewhok, a painter, sculptor, curator, conservator and art restorer who has been an active member of the Honolulu art community since 1986.
Tom Klobe, professor emeritus and founding director of the University of

Hawaiʻi

at Mānoa's Art Gallery, designing more than 200 exhibitions over 29 years.
Adam LeBlanc, a painter and sculptor who has exhibited his work at Honolulu Museum of Art at Linekona, Koa Gallery and group exhibits at UH.
Katherine Love, who works in mixed media paintings, drawings and installations that explore the relationship between opposing forces of wildness and domesticity.
Hal Lum, who sees himself as an abstract painter with work represented nationally in private collections and at the

Hawaiʻi

State Foundation on Culture and Arts.
Noreen Naughton, currently a full-time artist painting abstract configurations within a motif in her studio overlooking

Kāneʻohe

Bay.
Diane Nushida-Tokuno, a sculptor, calls attention to the effects of our relationship with nature and has been featured in the Textile Arts Center in Chicago.
Joseph Stanton, an advocate for poetry, who has lived in

Hawaiʻi

since 1972 and creates mixed-media poetry.
Russell Sunabe, a painter, returned from artist-in-residence in New York City teaching at Hunter College to teach at UH Mānoa, who currently practices his craft and exhibits in

Hawaiʻi

.
Lori Uyehara, whose work is represented in the collections of the

Hawaiʻi

State Foundation on Culture and the Arts and Honolulu Museum of Art.
Event details
Where Are We? will be on display from January 31 to March 1, 1–5 p.m. Monday–Friday and Sunday.
On January 31, there is an opening reception 4–7 p.m.
An artist talk will take place on February 9, 3–4 p.m. Joe Stanton will read his poetry and Adam LeBlanc will discuss a collaborative piece by himself and Stanton.
For more information about the exhibition, contact Gallery ʻIolani Director Toni Martin at (808) 236-9155 or visit the gallery website.