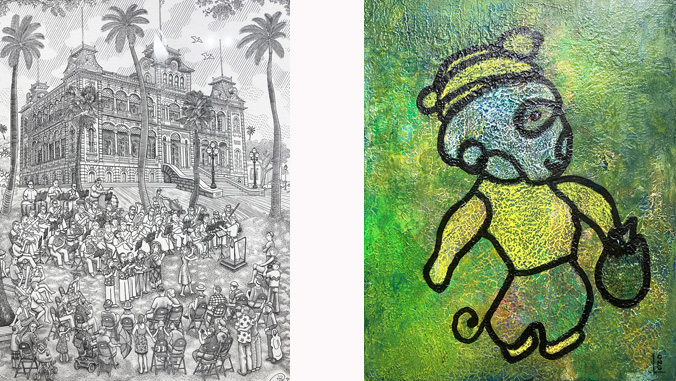 More than 100 works demonstrating the spirit of art on the Windward side of Oʻahu will be displayed at Windward Community College's Gallery ʻIolani February 4–March 4.
Impressions/Expressions showcases the work of Windward Artists Guild members, an outstanding group of local artists.
Works of recognized professional artists as well as newcomers to the art community highlight the joys and wonders of art.
The exhibition will be open to the public according to COVID-19 protocols. Check the gallery website or call (808) 236-9155 for updated information.
"Artists transform their impressions of the world around them into expressions of the impact those impressions make on their minds and hearts," said Exhibits Chair Liz Corbin of Windward Artists Guild.
"The art in this exhibition reflects that process in the varied subject matter and the wide range of media."
Impressions/Expressions is open Monday–Friday and Sunday, 1–5 p.m. An artist reception is scheduled for Friday, February 11, 4–7 p.m.
Gallery ʻIolani is celebrating 30 years of exhibitions at Windward CC, showcasing work from local, national and international artists.