Aloha ʻĀina Fridays are returning to the University of Hawaiʻi at Mānoa campus after more than 300 participants engaged in the series last fall. Punihei Lipe of the Native Hawaiian Place of Learning Advancement Office says that the feedback was positive and she is hoping to engage more of the UH Mānoa community.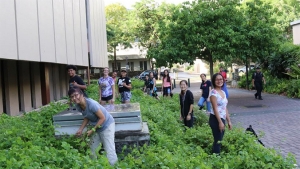 "For spring 2020, our goal is to continue to both broaden and deepen our campus' understanding of and engagement in aloha ʻāina," Lipe said. "We also want folks to become more connected to each other and our beloved Mānoa through exploration of aloha ʻāina together."
The free series is hosted by the the Native Hawaiian Place of Learning Advancement Office, Multilingual Multicultural Strategic Initiative, Campus Arboretum and Buildings and Grounds Management.
The Aʻo Aku, Aʻo Mai Speaker Series is happening on the first Fridays of the month.
The first presentation is on February 7, 12:30–1:30 p.m. at Hālau o Haumea at the Kamakakūokalani Center for Hawaiian Studies. This talk will feature accountancy instructor Manu Kaʻiama of the Shidler College of Business. Other dates for the speaker series will be on March 6, April 3 and May 1.
Nā Moʻolelo o Mānoa will headline the second Fridays of the month. Campus tours will be offered exploring the layered genealogy of UH Mānoa.
In honor of Hawaiian language month, there will be two mini tours conducted in ʻŌlelo Hawaiʻi on February 14. The first one will begin at 9:30 a.m., followed by the second at 10:30 a.m. Both tours will start at John Henry Wise Field at the corner of Dole Street and University Avenue. The remaining tours will be on March 13 and May 8 9–10:30 a.m., and will begin at the Kamakakūokalani Shuttle Stop.
Moʻolelo aku, Moʻolelo mai is the third Fridays' topic and will feature a dialogue circle with others talking about their journey to understanding aloha ʻāina. The dates are February 21 and April 17 3–4:15 p.m. on the grassy area behind Hawaiʻi Hall on the old "Quad." Finally, fourth Fridays will feature the topic Huli ka lima i lalo. Participants will work with Noweo Kai, curator of UH Mānoa's campus arboretum, on becoming stewards of the land. The dates are February 28, March 27 and April 24 3:30–4:30 p.m. Participants are asked to meet in front of Sinclair Library.
—By Marc Arakaki