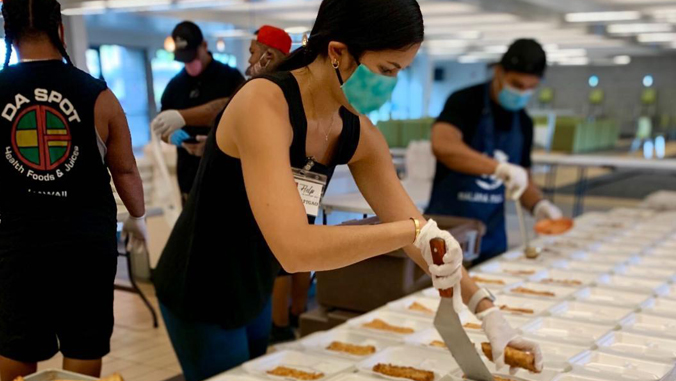 Just before final exams for the past 16 years, University of Hawaiʻi at Mānoa William S. Richardson School of Law faculty and staff have donned chef hats and aprons and dished up an elaborate lunch and dinner for their students, which was unfortunately canceled this year due to the COVID-19 pandemic. Included in that long-standing tradition are "hero stories" gathered from grateful students to spotlight the ways their fellow students looked out for—and looked after—each other.
With classes transitioning to online learning due to the COVID-19 crisis, these hero stories have taken on renewed meaning as they were shared this past week. During a virtual Zoom meeting on April 28, students received special mentions from their friends, peers and professors for their contributions this semester.
"The support our students give each other is unsurpassed within legal education in the United States," Dean Avi Soifer said. "It was Professor Calvin Pang's idea that the faculty and staff ought to honor and feed them each spring, and each year the students themselves describe extraordinary acts done by their fellow students."
Hero stories:
Every week Ciarra Sapigao drives from town to UH West

Oʻahu

where she plates hundreds of meals and then delivers them to community centers all over the island—all this as part of the Mālama Meals volunteer organization. "Ciarra has been a true inspiration and has even encouraged other law students to get involved in volunteering especially during this time," wrote her nominator.
Ilayda Ossana took the leadership role to revive the Law Students Against Violence organization. "I know that she will continue to represent and advocate for people who most need the assistance when she becomes a lawyer," wrote her nominator.
Debora Halbert shares her notes, helps explain complex class readings to other students and helps many prepare and prime before a class. "She is incredibly smart and thankfully she has used her skills to help many people digest our course material," said her nominator.
Ryan Toyomura, a returning member of one of the moot court teams, shared helpful resources, including briefs, cases, argument formulation and other assistance with his team members this year. "He was basically our coach," wrote his nominator. "He even handled most of the logistical legwork to ensure that our road to the tournament was as smooth as possible."
Arianne Cameros drives to class every day after finishing a long day's work at the law firm where she works in

Waiʻanae,

but she never complains about her commute, and always has a smile. "Ari is a kind and compassionate person, and she always checks in on me and her classmates throughout the semester to make sure we are doing okay. Ari has been the support system I needed," wrote her nominator.
Read more hero stories on the UH Mānoa law school website.
—By Beverly Creamer