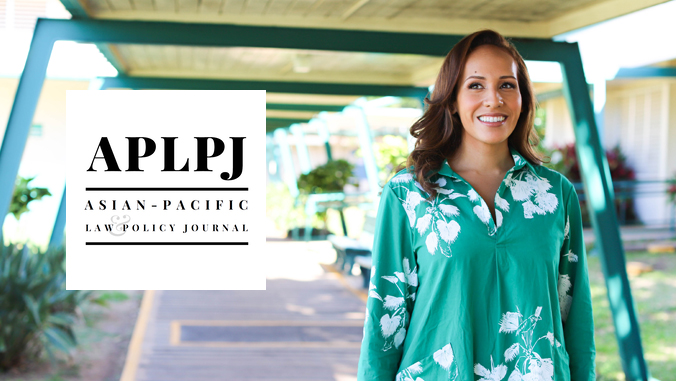 The Asian-Pacific Law and Policy Journal at the University of Hawaiʻi William S. Richardson School of Law will feature a significant first; a scholarly legal article written entirely in Hawaiian for a modern day law journal. The article discusses the role of ʻōlelo Hawaiʻi (Hawaiian language), as specified in the Hawaiʻi Constitution.
Sabrina Kamakakaulani Gramberg, a UH law school alumna, who currently is a Post-JD Fellow at Ka Huli Ao Center for Excellence in Native Hawaiian Law, wrote "Piliʻōlelo: E Ahona Kānaka I Ke Oʻa Kānāwai." The article advocates for a statutory infrastructure for Hawaiian language rights. Gramberg's proposal supports Hawaiian language usage in translation and translators throughout all government programs and services.
"I'm hopeful that this work will show folks that Hawaiian, like any language, can be used as a language of the courts, the legislature, and the executive branch," said Gramberg.
Her long-term vision is to return Hawaiian as a language to establish laws and policies in Hawaiʻi, rather than being solely used to translate legal documents from the English language. The article provides a brief history of the policies, laws and government actions that pushed ʻōlelo Hawaiʻi out of those roles, and the efforts of kūpuna (elder) to carry forth the language for succeeding generations.
UH law school Dean Avi Soifer stated, "Language is incredibly important in our everyday lives, and the revival of the Hawaiian language should not be kept out of our legal institutions."
"Tracing the history of government actions that forced Hawaiʻi's language shift would require folks to confront an uncomfortable history of racism, disease and social pressures," Gramberg explained. "Put simply, these layered events and experiences over decades resulted in a drastic decline in Hawaiian language speakers and kanaka ʻōiwi (Native Hawaiians) themselves."
The article seeks to distinguish the rights of Hawaiian language speakers in Hawaiʻi from minority language rights; it explains the constitutional ways in which Hawaiian language speakers are protected. It also addresses the question of why people do not primarily speak the language in Hawaiʻi.
As an official—yet critically endangered—language, Gramberg explains, a statutory infrastructure for Hawaiian language access would support revitalization efforts and would provide long-awaited mechanisms to obtain translation and interpretation services statewide.
"The next time someone wishes to express themselves in Hawaiian at any government proceeding, my hope is that our elected officials will have already laid out the path for them to do so," Gramberg added.
—By Sarah Hendrix