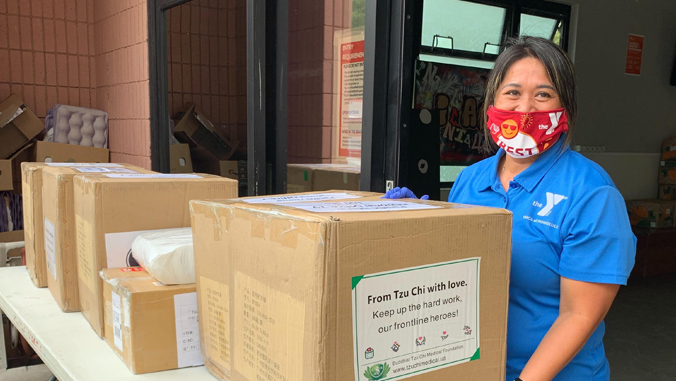 To help protect essential workers who provide mental and behavioral health services and their clients including those experiencing homelessness, the Hawaiʻi Department of Health and the Behavioral Health and Homelessness Statewide Unified Response Group (BHHSURG) with support from the University of Hawaiʻi at Mānoa are coordinating the donation and the distribution of donated personal protective equipment (PPE) across the state. So far, more than 13,000 surgical masks, among other items, have been donated to "resilience hubs," on Oʻahu.
Three nonprofits on Oʻahu are operating the resilience hubs: KROC Center in Kapolei, KEY Project in Kahaluʻu and the YMCA in Kalihi.
"UH Mānoa has played a role in developing infrastructure for the Resilience Hubs to distribute PPE across the island," said Victoria Fan, UH Mānoa associate professor of health policy at the Myron B. Thompson School of Social Work. "In partnership with DOH, UH developed an inventory management app along with the standard operating procedures for warehousing. Given limited PPE stock, we also developed and implemented an algorithm to prioritize PPE to providers with the highest infection risk."
As of May 25, Oʻahu's resilience hubs have received: 13,153 surgical and cloth masks, 7,069 N95 masks, 9,035 disposable gloves, 2,023 goggles, 823 homemade masks, 590 medical gowns and 212 face masks.
"A partnership of DOH, Hawaiʻi Community Foundation, the Hubs, UH and several organizational partners, we are appreciative of everyone's support who make our collective achievements possible," said Rebecca Choi of the Hawaiʻi Department of Health Behavioral Health Administration.
Of these donations, UH facilitated a PPE donation from Tzu Chi USA to the Resilience Hubs. "With UH's help, we appreciated the opportunity to donate 10,000 surgical and N95 masks, 2,000 cloth masks with filters, 2,000 goggles and 480 medical gowns to this public-private partnership between the Department of Health and the Resilience Hubs to effectively reach providers," said Jackson Chen, CEO for Buddhist Tzu Chi Foundation, USA based in San Dimas, California.
To date, distributions ordered for 80 provider organizations will help keep many essential workers and their patients safe during the COVID-19 pandemic. More PPE are needed for behavioral health and homelessness service providers working across the state.
"This PPE will go to providers across the state who are working with individuals and families and communities who are struggling with homelessness and behavioral health issues," said Eddie Mersereau, deputy director of the Behavioral Health Administration. "The public sector, the private sector, and the community, when they get together for a common cause, can accomplish great things. When we unite in a common cause, there is no limit to what we can achieve."
PPE donations needed
Donations of homemade and unopened store-bought PPE such as masks, goggles, gloves and face shields are needed. In addition, the resilience hubs are now accepting sanitation supplies including bleach, disinfecting wipes, paper towels and toilet paper.
To donate, items can be dropped off at the following times and locations:
KROC Center in Kapolei
Drop-off hours: 9 a.m.–noon, or by appointment
Phone: (808) 682-5505
KEY Project
Drop-off hours: 9 a.m.–noon, or by appointment
Phone: (808) 239-5777
Kalihi YMCA
Drop-off hours: 9–11 a.m., or by appointment
Phone: (808) 848-2494