"A celebration of a person's 100th birthday is not unusual when a person reaches that milestone in life; however for me, though I never expected to reach it, the year 2020 is more important as the 70th anniversary of my moving to Hawaiʻi, and even more important as the 60th anniversary of the establishment of the MA degree in Music with concentration in Ethnomusicology. I deeply appreciate the extensive celebration of my 100th birthday." —Barbara B. Smith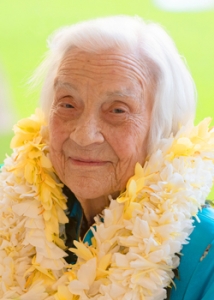 A pioneer for cultural diversity for the University of Hawaiʻi at Mānoa and the state, who has championed the music and dance of Hawaiʻi, the greater Pacific and Asia, Professor Emerita of Music Barbara Barnard Smith will celebrate her 100th birthday on June 10.
Before the COVID-19 pandemic, a year-long celebration honoring Smith and her contributions and achievements included a series of concerts, museum exhibitions and an international symposium, The Barbara B. Smith Conference on Ethnomusicology. The conference, which coincided with her 100th birthday, has shifted to webinars on Zoom. All other canceled events may be rescheduled to a later date.
Smith, fondly known as "Miss Smith" to her students, immersed herself in the music of Asia and the Pacific, and advocated for its integration into the music department. She established and developed the internationally-recognized ethnomusicology program at UH Mānoa, whose graduates also became advocates in culture and the arts throughout the U.S., Canada, Europe, and the Asia Pacific region. Among Smith's earliest students were Herbert Ohta (Ohta-san) and Eddie Kamae, both recognized artists in the Hawaiian music industry.
In memoriam: Barbara Smith, ethnomusicology program founder
—July 3, 2021
While Smith retired from full-time teaching at UH Mānoa in 1982, she remained engaged with the department and university through her fieldwork, advocacy for research and as a mentor to international graduate students. Her relentless dedication and commitment was evident as she continued to mentor dissertation students, even during the COVID-19 pandemic.
"Barbara Smith is one of the true treasures of Hawaiʻi and our university," said UH President David Lassner. "She is both a highly-recognized academic and an engaged community member with a remarkable generosity of spirit. Her impact throughout Hawaiʻi and the Asia Pacific region, and on the thousands of people she has has touched directly and indirectly, cannot be measured."
Making an early impact
Smith, who had earned her master's degree in Music Literature at the Eastman School of Music in Rochester, N.Y., came to Hawaiʻi in 1949 to help develop the UH Mānoa Music Department. The California native was hired to teach piano and music theory for the department in its infancy.
She was immediately interested in her students as people and their ethnic backgrounds, and was also impressed with how eagerly they were learning what she was teaching them. However, Smith came to realize that it was contributing to their problems of self-esteem because what they were learning at the university was limited to Euro-American culture. While they did not criticize her for it, she felt she was contributing to their problem.
That triggered Smith to push for a course that would acknowledge the artistic validity of the music of her students' heritages. However, she could not find anyone willing to develop such a course. Rather than returning to the continental U.S. to look for other job prospects and "feel guilty for the rest of my life for failing to meet the deeply felt needs of those who had come to trust me, I devoted myself to trying to learn enough to teach an introductory course about their music. I have never regretted my decision to stay," explained Smith.
She began to learn to perform the music of various ethnicities. Then she introduced classes in hula and Hawaiian chant, Korean dance, Chinese butterfly harp and Japanese gagaku (court music) at the music department. When the East-West Center (EWC) was established in the 1960s to bring together people of the U.S., Asia and the Pacific to research and study in Hawaiʻi, Smith recommended that EWC and UH Mānoa could learn from visiting scholars and performances of world music, dance and theater.
These seeds blossomed into the master's and doctorate programs in ethnomusicology at UH Mānoa that emphasize learning from "living cultures" in Hawaiʻi and the surrounding Asia Pacific region.
Students sing her praises
The program developed through the years with the help of one of Smith's former students and now a professor emeritus of ethnomusicology and Asian Studies, Ricardo Trimillos.
"Barbara has been a valuable mentor, a wonderful colleague and a good friend," said Trimillos. "It has been a joy to see a vision of ethnomusicology flourish in Hawaiʻi built upon her two 'pillars': a commitment to intellectual rigor and a respect for artists and their communities."
For Terry Liu, the program built a foundation for a successful career in the arts. The former executive director of the Hawaiʻi Arts Alliance and administrator for the National Endowment for the Arts, said "The ethnomusicology program at UH Mānoa, a rainbow bridge to mālamalama, lit my path in life."
Smith was a mentor to many students, including Patricia Dunn. A student at UH Mānoa in the 70s, Dunn accepted an invitation from a friend to take a new Javanese dance and music lecture class, which made her "fall through the looking glass."
Miss Smith's gift was more than the pedagogy of learning music and dance but one of opening up the world…
—Patricia Dunn
Dunn, who now serves as an undergraduate student advisor in the Asian studies program, credits Smith for her vision and desire to have her student's ethnic roots reflected in the curriculum.
"Miss Smith's gift was more than the pedagogy of learning music and dance but one of opening up the world to a girl born and raised just over the hill in the next valley over," she said. "She instilled a curiosity and appreciation for the cultures the world could offer and an understanding of what made us unique and yet also the same."
Another of Smith's students was School of Pacific and Asian Studies Dean R. Anderson Sutton, who pursued his MA in ethnomusicology starting in 1971. With an interest in the music of Asia, he had heard from his undergraduate professors the praises of Barbara Smith and the UH Mānoa program that she founded.
"Knowing I had been introduced to Asian music at Wesleyan, where the emphasis had been primarily on performance, she looked me squarely in the eye, smiling, and said, 'Here at UH we put more emphasis on the 'ology' in ethnomusicology,'" Sutton said of his first encounter with Smith. "All of the graduate students in the program soon learned that she was a demanding teacher, with high standards: no tolerance for sloppy writing or superficial research, nor for anyone who did not treat with respect the musicians with whom they studied."
Sutton added, "We learned by her example to prioritize ethics in our encounters and clarity and consistency in our writing. For that guidance I remain very grateful."
Chiao-Wen Chiang is a PhD student and fellowship recipient in the ethnomusicology program. Chiang recalled Smith recently joined a two-hour thesis defense held via Zoom due to COVID-19. "She sat through the entire session and provided comments," she said. "I'm very impressed with her energy and enthusiasm for learning, and for continuously showing her support to students, the program and the field. Prof. Smith and her Aloha spirit inspire me profoundly."
A pioneer of music and cultural diversity
As a woman and an academic, Smith can be credited with a number of firsts. She was the first UH professor to study the music of Asia and the Pacific. She was the first woman and non-Japanese person to drum for local Bon Dance observances as a member of the Iwakuni tradition. She was the only non-Japanese person to be accepted by the Japanese koto (zither) master Michio Miyagi as a student. She produced the first performance instructional film for hula, with kumu hula Eleanor Hiram demonstrating the mele "Ula no Weo." She released the first long play recording ever of an extended performance of the Korean classical music genre sanjo, performed by kayakeum (zither) virtuoso Hwang Byong-ki. She was the first American and the first woman to undertake field research and the collection of music in the various regions of Micronesia in the 1960s and 70s.
Beyond her contributions to the university, Smith has been a role model for cultural citizenship. At EWC where she maintains an active interest in the arts program, she planned and developed short-term training courses for mid-career cultural workers from Asia and the Pacific in arts development and management. In 1961, she organized court testimony to protect the Hawaiian musical instrument ʻulīʻulī from being exploited by a foreign businessman. She has supported cultural and education projects for the Bishop Museum, the Honolulu Museum of Art and the former Honolulu Symphony Orchestra. Perhaps her most significant contribution to the Hawaiʻi cultural community is as editor for the completion of The Queen's Songbook, an annotated anthology of the compositions by Queen Liliʻuokalani. Smith has continued to be a supporter of projects in ethnomusicology, contemporary music and Asia Pacific cultural performance but humbly takes no credit and insists her generous donations remain anonymous.
Among her many accolades are earning the distinction as a "living treasure" from the UH Mānoa Colleges of Arts and Sciences; being recognized as a "pioneer" by a resolution of the Honolulu City Council; the 2018 Hawaiʻi Arts Alliance Alfred Preis Honor; and the Governor's Award for the preservation of Hawaiian Language, Art and Culture.
Smith has left a lasting impact on those she has taught and touched at UH Mānoa and in the state of Hawaiʻi, which she has proudly called her home since arriving some 70 years ago.
Sutton's sentiments are undoubtedly shared among the many students fortunate to have been under Smith guidance. "(Due to) the ongoing legacy of the program she built and has actively sustained, even long after her official retirement, music at UH and in the wider community would not be what it is today without her efforts. Mahalo nui loa, Professor Emerita Barbara B. Smith!"
Email for more information on the 2020 Barbara B. Smith Webinar Series: A Legacy for Ethnomusicology.
—By Arlene Abiang