Four University of Hawaiʻi media students showcased their works in front of a national audience.
Films by UH Mānoa Academy for Creative Media (ACM) spring 2020 graduates Gavin Arucan and Suky Zhao, and Kapiʻolani Community College New Media Arts (NMA) students Hannah Woodward and Raleigh Harris, were selected for the Class of 2020 Animation Virtual Showcase, hosted by the International Animated Film Association (ASIFA)-Hollywood Animation Educator's Forum.
"ACM is very proud of the films created by Gavin and Suky," said Christine Acham, ACM Mānoa chair. "As seniors, they were an important part of the 2020 animation cohort. The acceptance of their films into this competitive showcase is symbolic of the bright future that lies ahead for these graduates."
"I'm proud to say that Kapiʻolani's New Media Arts program is a part of this international showcase," said Adam Moura, Kapiʻolani CC's NMA coordinator and assistant professor. "It shines a light on the dedication and talent of our students."
Midnight Showing
Arucan's film Midnight Showing is a horror/comedy short about an exhausted movie theater usher who is tormented by a phantom haunting his workplace. Arucan called it one of the most ambitious projects at ACM Mānoa due to its 10-minute duration and use of mixed media such as stop motion animation. He said stress levels were high, but the crew of approximately 20 people was able to complete the film on time.
"With a lot of film festivals being postponed or done virtually due to the pandemic, I'm glad that this showcase got put together to feature student work," Arucan said. "I was afraid our film wouldn't be getting the same attention it might get in any other year."
Since graduating, Arucan has been working on perfecting his capstone films. He is also beginning freelance animation director jobs and sharpening his skills to pursue a story art job in the TV animation industry.
Poked
Zhao's film Poked is about a "clumsy, quirky aloe plant" in a flower shop that wants to be sold to find a forever home. However, when it meets a cactus plant in the shop, it learns "that dreams are best achieved when done with a companion."
"Being able to see my work alongside the works of such talented animators from both our animation department and other schools in the 2020 Animation Virtual Showcase is nerve-wracking," Zhao said. "But I'm grateful to Professor Brittany Biggs for giving me and all my crew members/animators this opportunity."
Zhao said there were some challenges during the production process but credits her production manager and other animators who persevered and got the job done. Since graduating, Zhao has worked on animating sequences for two documentaries and background art for another animated film.
Frog Birthday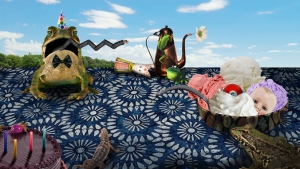 Woodward, a Kapiʻolani CC New Media Arts major with a concentration in animation, loves creating whimsical and fantasy worlds. Frog Birthday started from a vision of what a birthday party for a frog would look like. It was inspired by concepts and illustrations from Alice in Wonderland. Woodward said all of the different moving parts and animations keep the film interesting and unpredictable.
"Collecting all of the textures and assets took a bit of time," Woodward said. "Trying to find the right image and then editing it to fit the scene was a large part of this project. Each scene file has about 100 layers of images and textures to get everything to look just right."
Up in Smoke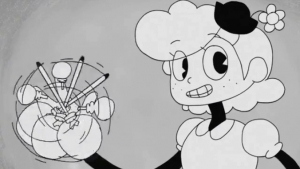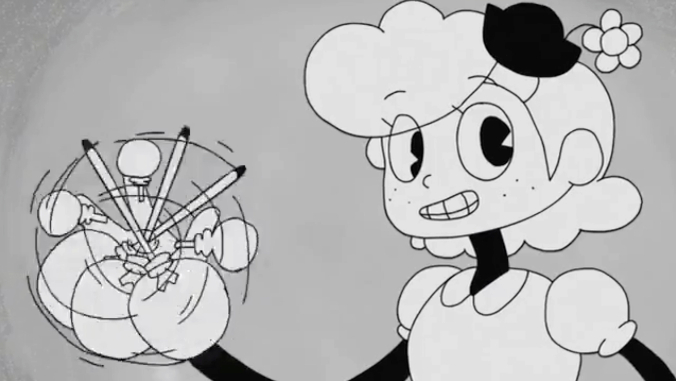 Based on the style of a 1920s black and white cartoon, Up in Smoke is an anti-vaping PSA that mimics old commercials promoting smoking as a healthy behavior. Harris said the implication was that the claims that vaping is healthy and safe may be false in the future. The film features two classic cartoon characters selling a vintage-style vaping device in a tongue-in-cheek manner. In addition to being selected for the Class of 2020 Animation Virtual Showcase, Up in Smoke was nominated for an ADDY award presented by the American Advertising Federation.
"I was pretty surprised, I wasn't expecting it to go as far as it had but I'm glad that people are enjoying it," Harris said. "The hardest part was learning how old cartoons were styled and trying to match their animation to make the film look as authentic to the 1920s look as possible."
—By Marc Arakaki