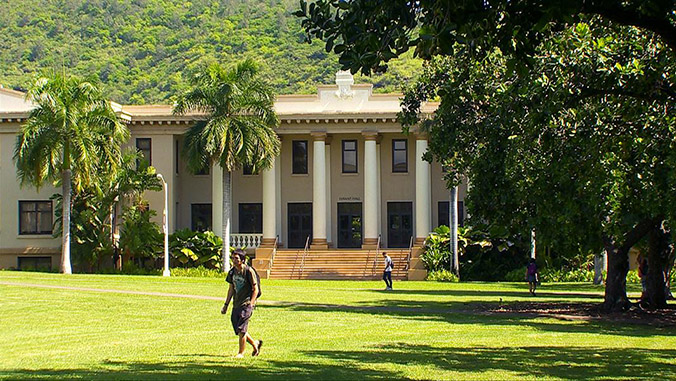 This message from Provost Michael Bruno was shared with students of the University of Hawaiʻi at Mānoa on July 6, 2020.
Aloha UH Mānoa students,
I hope this email finds you and your families in good health. We are preparing for an unprecedented fall semester, and your patience and flexibility are greatly appreciated as we navigate this transition.
The mode of delivery (online, in-person, or hybrid combination of online and in-person) for every fall 2020 course will be updated in the STAR–GPS system over the coming weeks. Registration was temporarily paused from Sunday, July 5 at 11:59 p.m. It will reopen Monday, July 13, after we begin updating approximately 2,500 fall courses (roughly 70 percent of fall courses). You can view a preliminary list of fall 2020 courses that will change to online or hybrid here. Courses will continue to be added to this list (and updated in STAR) throughout July.
When registration reopens on Monday, July 13, you will be able to drop and/or add courses. You will receive information from campus announcements and via email before July 13 about your registration time. You may decide to adjust your fall semester so your courses are a combination of face-to-face, online and/or hybrid. You may want to speak with your academic advisors for guidance before making schedule changes. Adjustments may be made to course formats throughout the summer, so we encourage you to check STAR regularly.
I know that this is not what you anticipated when you made the important decision to attend UH Mānoa. The COVID-19 pandemic has turned the world upside down. Courses had to be moved to online or hybrid formats to accommodate our significantly reduced in-person classroom capacity after instituting COVID-19 health and safety requirements, especially 6-foot social distancing.
Please know that hundreds of UH Mānoa faculty, staff and administrators have been hard at work making these necessary adjustments with your health and safety as our top priority. Our goal is to ensure a safe and supportive environment for all of you and our employees while continuing to deliver a high-quality, relevant education.
Please keep an eye out for updates and thank you again. If you have any questions, email covid19@hawaii.edu or visit the UH COVID-19 resource website.
With aloha,
Michael Bruno
UH Mānoa Provost