The University of Hawaiʻi at Mānoa Lyon Arboretum welcomed energetic kids to its summer nature camps with new COVID-19 guidelines to keep the little campers safe and healthy.
Both sessions from June 22–26, and July 6–10, were limited to 10 participants and all spots were filled by early June. This year's theme was "Rainforest Rangers!" and featured outdoor explorations, science investigations and behind-the-scenes tours. Along with fun activities, participants also learned about the arboretum's extensive plant collection, conservation efforts and other features that are unique to Lyon Arboretum.
"The goal that always drives our education program is for children to gain a greater appreciation and understanding of plants and nature," said Raedelle Van Fossen, Lyon Arboretum education manager. "In particular, we want the children to really start to notice plants in a way that they may not have done so before. However, in light of the COVID-19 pandemic, we thought that the children would just need to spend time with peers and be outdoors. We wanted to provide that opportunity for them."
COVID-19 modifications
Several of the changes due to the COVID-19 pandemic included conducting daily temperature checks, maximizing outdoor time, making masks mandatory indoors and encouraging touch-free games like "shadow tag" and "simon says."
"These guys did an amazing job implementing social distancing in a sensible, practical and safe manner," said Andrea Jani, mother of a camp participant. "We are generally on the cautious side and we were completely comfortable with the camp's implementation of social distancing."
Reaction from parents
Jani said the weeklong camp in June was the "pinnacle" of her 8-year-old daughter's summer.
"Being able to take part in activities with her peers, get outside (other than our backyard), and interact with caring educators and mentors was priceless," Jani said. "Kids have been cooped up and isolated and they desperately need a way to continue their physical, social and intellectual development, and Lyon does an incredible job providing these. For the first time in three months, our child had something she wanted to tell us about at the end of the day."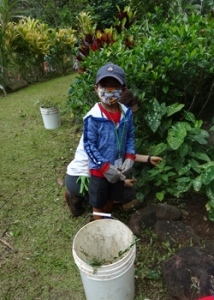 Audrey Hirayama said her 6-year-old son Liam enjoyed the camp so much, he's looking forward to the next one.
"He is a very social child and he thrives on interacting with other kids," Hirayama said. "I tried to set up zoom 'play dates' with his friends, but these were very chaotic and required an adult to sit with him. When he was told that he was going to attend nature camp at the Lyon Arboretum with other kids—new friends, he was so excited."
Carol Hepner said her 5-year-old daughter is used to being outdoors and had a blast at the nature camp.
"We hike a lot as a family, and we were excited to find a camp where she could be outside exploring and learning," Hepner said. "During COVID-19, I felt that this type of camp is safer because the kids could socialize, but still maintain distance. I hope she can attend a future camp at the arboretum!"
Lyon Arboretum reopens to public
The arboretum is open to the public by online reservation only. Admission is still free, however, visitors will need to wear masks at all times, hours will be reduced and visits will be limited to a maximum of two hours.
Van Fossen said Lyon Arboretum will likely not be able to host school field trips during the upcoming school year due to COVID-19, therefore, staff members are working to provide opportunities for keiki to either visit if they are not in the classroom or to experience the arboretum virtually.
—By Marc Arakaki