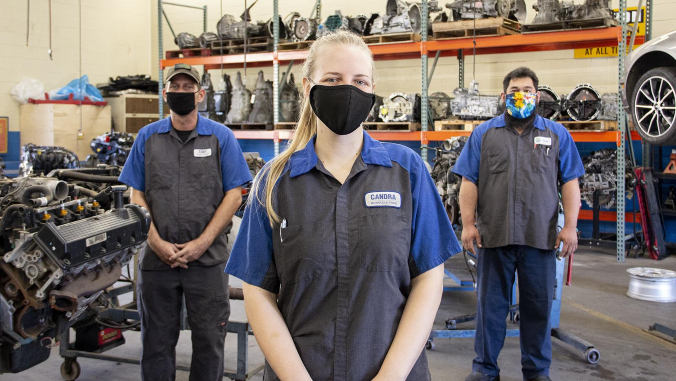 Four Leeward Community College automotive technology students have been awarded the Ford Automotive Student Service Education Training (ASSET) scholarship from the Ford Motor Company. Devin Caringer, John Paul Fua, Toby Samsal and Candra Urban each received a $2,000 scholarship to assist with the completion of their academic studies.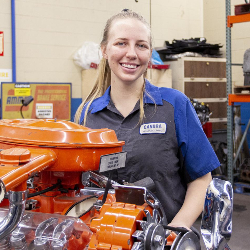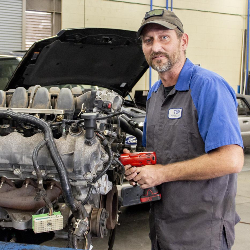 Ford offers this scholarship to automotive technology students who have demonstrated academic excellence and commitment to education. To qualify for the scholarship, students must meet a minimum GPA requirement, be enrolled in the ASSET program and be sponsored as an ASSET intern by a Ford or Lincoln dealer.
ASSET is a statewide program sponsored by Ford Motor Company, Ford and Lincoln/Mercury Dealers and Leeward CC. Leeward CC's ASSET program provides the student with a unique two-year work-study experience which leads to an AAS in automotive technology. The program is designed to develop entry-level service technicians, proficient in the latest automotive service technology, for Ford and Lincoln/Mercury dealerships.
"We are especially grateful to Ford for their strong commitment and partnership with Leeward Community College. Ford ASSET Scholarship for the advancement of our students in pursuing their automotive technology degree at Leeward CC is further strengthening our partnership," said ASSET Instructor Jeff Eligio. "These scholarship awards meet a critical need for our students, and it came at a perfect time during these trying times."
Caringer was also selected for the Grainger's Tools for Tomorrow scholarship program. Caringer received a $2,000 scholarship, and upon graduation, he will receive a full toolkit to jump start his career.
Grainger, a local distributor of products used to maintain, repair or operate facilities, offers the scholarship for tuition and books to 250 outstanding students each year at 125 community colleges across the country. Grainger partners with community colleges to help students get the education and resources they need to successfully join the workforce.