For their work with volcano shrimp and researching links between zoonotic disease (spread between animals and people) and feral species, two graduate students in the University of Hawaiʻi at Mānoa Marine Biology Graduate Program were awarded Ford Foundation Fellowships from the National Academies of Sciences, Engineering and Medicine.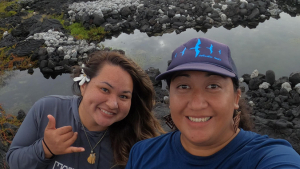 Kuʻi Keliipuleole and Nalani Olguin were selected to receive the predoctoral Ford Fellowship based on their superior academic achievement and commitment to a career in teaching and research at the college or university level in the U.S.
The award provides an annual stipend of $27,000 for three years, an invitation to attend the Conference of Ford Fellows and access to Ford Fellow Regional Liaisons, a network of former fellows who provide mentoring and support to current recipients.
Kuʻi

Keliipuleole

Keliipuleole's research focuses on ʻōpaeʻula, also known as the Hawaiian red shrimp or volcano shrimp, with Rosie Alegado, associate professor in UH Mānoa School of Ocean and Earth Science and Technology (SOEST), as her advisor.

"The long-term goal of my work is to support ʻōpelu (mackerel scad) fishers, resource managers and community members in perpetuating customary ʻōpelu fishing practices which depend on restoring, protecting and maintaining loko waiʻōpae (anchialine pool) and the organisms that live in them, such as ʻōpaeʻula," said Keliipuleole.
Nalani Olguin
Through her research, Olguin investigates the health of the wai (water) by assessing the role of introduced species as vectors of disease in coupled human-natural marine systems.
Also based in Alegado's laboratory, Olguin's research links zoonotic disease and feral species that have been introduced to Hawaiʻi—specifically those animals whose environmental impacts are balanced by their cultural significance, for example, puaʻa or wild boar, and introduced species without a historical function, such as cats.
"'Aʻo aku aʻo mai' means 'we teach, we learn' and is the guiding ethos of my research," said Olguin. "I'm most interested in carrying out this work because it is the product of a community partnership between several Indigenous community stakeholders, practitioners, and members living and working within the Heʻeia ahupuaʻa. This research will promote Indigenous knowledge and health while working to answer questions and inform management in that area and possibly throughout Hawaiʻi."
For more information, see SOEST's website.
–By Marcie Grabowski