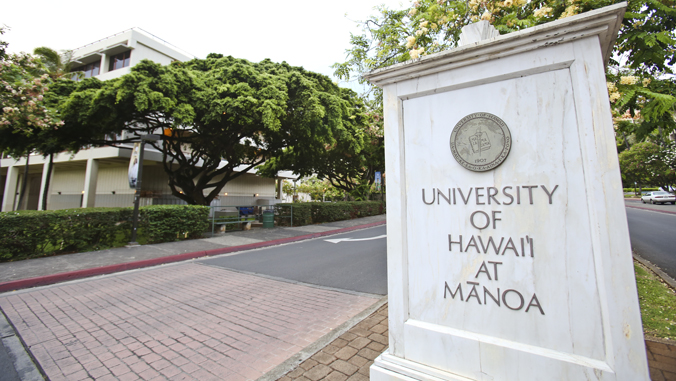 The University of Hawaiʻi at Mānoa earned high marks in the 2021 U.S. News and World Report's Best Global Universities rankings released on October 20.
UH Mānoa is ranked No. 378 worldwide and No. 109 in the U.S. In addition, UH Mānoa is No. 97 in international collaboration in the U.S., No. 106 in regional research reputation and No. 237 in global research reputation.
UH's flagship campus is also highly ranked globally in several areas, including No. 63 in geosciences, No. 110 in space science, No. 125 in arts and humanities, No. 180 in environment/ecology and No. 241 in social sciences and public health.
"I am proud of our students, faculty and staff for persevering through the challenges presented by COVID-19 as we work to shape a better future for Hawaiʻi," UH Mānoa Provost Michael Bruno said. "This recognition highlights UH Mānoa's commitment to academic and research excellence."
UH Mānoa is ahead of the University of Oklahoma (No. 414), California State University, Fresno (No. 494), Boston College (No. 595) and San Diego State University (No. 614).
The rankings, which are in their seventh year, evaluate nearly 1,500 eligible research universities of more than 26,000 institutions worldwide. The Best Global Universities rankings analyze several factors, including global and regional research reputation, publications, citations and international collaboration.
Other rankings
UH Mānoa also received these notable rankings:
For more information, see the Mānoa Institutional Research Office's rankings page.
—By Marc Arakaki