How does a style become a fashion? Why do trends spread and decline? For the beginner student, Introducing Fashion Theory: From Androgyny to Zeitgeist is a one-stop resource that covers theories of fashion and appearance behaviors from the perspectives of fashion businesses, individuals, society and culture.
Authored by University of Hawaiʻi at Mānoa Fashion Design and Merchandising Program (FDM) Professor Andy Reilly, it is the second edition of an earlier book, Key Concepts for the Fashion Industry, that was widely adopted by fashion courses. This newly released version has been revised and updated, including expanded coverage on cultural appropriation, corporate greenwashing, and the criminal world of counterfeit goods. It is designed to help students quickly get up to speed with fashion theories, from scarcity to conformity, through clear practical examples and case studies.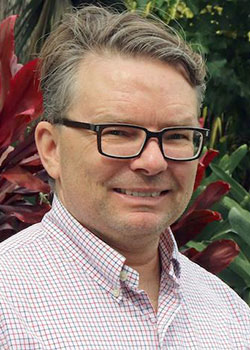 "I use this book in my FDM 101 course, 'Introduction to the Fashion Industry,'" said Reilly. "I wrote it because I wanted something that effectively and efficiently explains how fashion 'works' from different perspectives, appropriate for the beginning level study. I'm glad students across the country found the first version useful, and I hope this update is equally well received."
Professor Nancy Rabolt of San Francisco State University added, "Using historic, cultural, and current fashion examples, Introducing Fashion Theory helps explain our everyday clothing habits and the paradoxical nature of fashion."
Introducing Fashion Theory: From Androgyny to Zeitgeist will soon be available from Bloomsbury Publishing, as well as on Amazon, Brookline Booksmith, GoodReads and others.