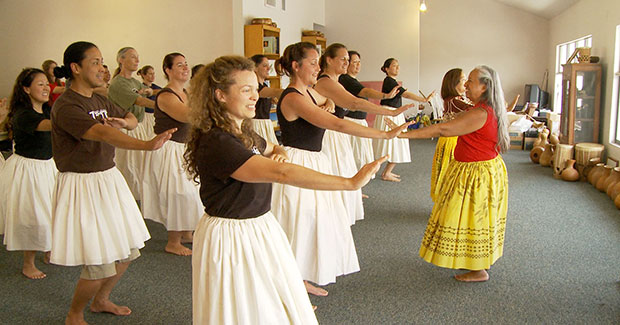 A new report from the University of Hawaiʻi at Mānoa John A. Burns School of Medicine (JABSOM) suggests the need for a culturally-responsive framework to achieve social and health equity among Native Hawaiians. For decades, this population has been plagued with disproportionate higher rates of chronic diseases and higher mortality rates than the general population in Hawaiʻi.
JABSOM has released the second edition of the "Assessment and Priorities for the Health and Well-Being in Native Hawaiians and Pacific Islanders" (NHPI). Funded by the Queen's Health Systems, the report focuses on the health status of Native Hawaiians in the state. Data in the report shows that Native Hawaiians suffer from coronary heart disease, stroke, heart failure, cancer and diabetes at a rate three times greater than in other ethnic populations, and become afflicted with these diseases a decade earlier.
Although the dire NHPI health inequities continue to persist, "innovative answers to addressing these inequities have emerged," said Mele Look, director of community engagement in JABSOM's Department of Native Hawaiian Health and one of the authors of the report. "These include a framework for achieving social and health equity—solutions recognized across the nation and around the world that are based on cultural values, practices, belief and resilience."
Systemic changes to improve health
Nā Pou Kihi, the framework developed by Native Hawaiian Health Chair Joseph Keaweʻaimoku Kaholokula, proposes systemic changes in political, educational, economic and social systems needed in order for Native Hawaiian health to improve.
"Nā Pou Kihi provides a culturally relevant means of aligning our diverse efforts toward the common goal of achieving optimal Mauli Ola, or health and well-being, for our communities. They are guideposts to what needs to be in place or strengthened if we are to be successful in this endeavor," said Kaholokula.
Look said the framework goes beyond health interventions–"it shows how policy needs to be developed more comprehensively to improve health." She points out the lack of sidewalks and safe bikeways in Waiʻanae, which has a large Native Hawaiian population. "Building sidewalks would do more than just improve traffic safety, it ultimately improves their (residents') health because they would feel safer walking or riding their bikes outside," Look said.
Culturally-relevant programs
In addition, the report provides evidence-based research that further supports the idea that the health of Native Hawaiians will thrive when their health care is rooted in Native Hawaiian culture.
"Because culture is such a significant part of what distinguishes a population, especially Indigenous communities, disease prevention, treatment and management programs must be culturally-responsive at their core and the cornerstone of health promotion," said Kaholokula.
The report cited a JABSOM study that demonstrated a health intervention program incorporating hula, which had significantly reduced hypertension and lowered the risk of heart disease among Native Hawaiian participants.
Also highlighted was the Ke Kuʻuna Naʻau Program, which was implemented at the Queen's Medical Center (QMC) in 2016, and enlists non-clinical community health workers to be included as members of a patient's direct clinical care team and serve as a patient's liaison between the hospital and community services. This program has reduced readmission rates among Native Hawaiian adults at QMC, thus improving the patients' quality of life.
The report stated that the development of more culturally-relevant programs like these are necessary and that "health equity will be achieved in part with effective, sustainable and culturally responsive health intervention programs—which also help to revitalize cultural practices and empower communities."
Authors of the report include Kaholokula, Look and Shelley Soong of the UH medical school.