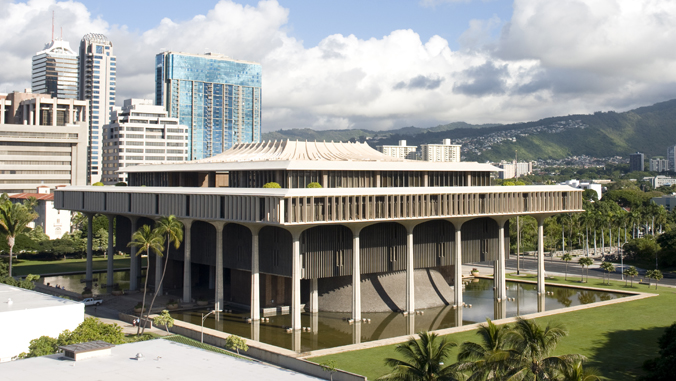 University of Hawaiʻi President David Lassner said there will be no formal layoffs, retrenchment or reductions-in-force of faculty or staff with employment security within the 10-campus UH system until the Hawaiʻi State Legislature approves a biennial budget and that budget is enacted by Gov. David Ige. Lassner made the statement in a budget presentation (PDF) to the UH Board of Regents at their January 7, 2021, meeting.
"Our practice for the last several years and, which we believe will serve us well this year, is to see what the legislature does with our budget, and then advise you on what we recommend and ask for your approval," said Lassner.
The state's financial condition remains grim.
—David Lassner
The projected general fund budget reductions are a consequence of the economic devastation to the State of Hawaiʻi from the COVID-19 pandemic. UH currently receives about $526.5 million in state general funds as part of its $1.1 billion operating budget. While the Board of Regents approved an operating budget request that has no increases, the Executive Budget proposed by Gov. Ige includes a 15% reduction of state general funds to UH. Lassner noted that in most years the state budget bill provides support somewhere between the BOR-approved budget request and the proposed Executive Budget.
"The state's financial condition remains grim," said Lassner. "Hawaiʻi's economy has not started coming back in a meaningful way yet, and I think most people believe it will not come back until we can put COVID-19 in the rear view mirror."
Federal stimulus funding
Lassner reported that more federal stimulus funding is coming to UH from the $900-billion end-of-the-year coronavirus relief package approved by Congress in late December. While the exact amounts are not yet known, it is expected that the funding will be targeted to provide emergency aid for students in need and to cover additional direct operating costs caused by the pandemic, including investments in strengthening online and remote learning.
It still remains unclear whether the new federal funding can be used to address reductions in state funding to UH. Federal funding will provide one-time assistance while the proposed cuts to UH's base operating budget by the governor would be permanent. Lassner noted that experts agree that the budget crisis will last a minimum of four to five years.
Aside from federal funding, tuition revenue is down slightly compared to last year, but Lassner said the recent results and outlook for both extramural and philanthropic funding are positive.
Planning for the future
The presentation also included an update on the university's comprehensive and inclusive planning to support Hawaiʻi's transition to a more sustainable future, even if general fund support to UH is reduced. The key points include:
Focusing on the education programs most needed by the people and islands of

Hawaiʻi

Increasing research productivity and impact
Diversifying revenue sources
Working more collaboratively across all parts of the UH System
Increasing operational efficiency in all aspects of UH's mission
Lassner noted that many of the suggestions that arose during the planning process make sense even without consideration of budget cuts, and those can be initiated without formal layoffs or retrenchment.
"While the state budget presents a challenge, our leadership team is inspired by and optimistic about what Hawaiʻi's university can do for our future," Lassner shared.