No spotlight is too bright for Brad Kalilimoku. The former University of Hawaiʻi at Mānoa Rainbow Warrior linebacker went from tackling opposing offenses to hitting the big screen. In his latest role, Kalilimoku plays Kua Kawena in the new Netflix hit Finding ʻOhana.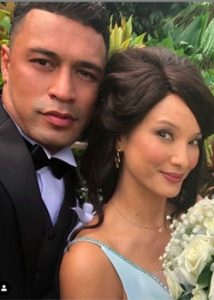 The film is about two New York-raised siblings who spend a summer in rural Oʻahu. The pair find a journal, which leads them on a treasure hunt with new friends, and allows them to connect with their Hawaiian heritage. Kalilimoku's character, Kua Kawena, is their father who died when the kids were younger.
"For a production of this magnitude to cast actors and actresses with ties to Hawaiʻi was awesome," Kalilimoku said. "We really felt like an ʻohana, not just actors and actresses working on the same film. We still keep in touch. There was also so much sensitivity and effort thought out when incorporating Hawaiʻi and its culture to approach it with respect. Hats off to (director) Jude Weng for a job well done!"
Kalilimoku's acting career
The Honolulu native began his acting career in 2015 after friends and family persuaded him to try it out. In a few months, Kalilimoku appeared in commercials and had a guest role in Hawaiʻi Five-0. While he's also had roles in several movies and films acting and performing stunts, Kalilimoku still says the highlight so far has been on Finding ʻOhana.
"To be able to take on a role with so little words to say, yet bring out all those emotions in my face and body language and deliver such a performance was so humbling and proud for me," Kalilimoku said.
He is currently working on a future HBO show on Maui and hopes to land more roles that highlight Hawaiʻi, its culture, people and language.
Football star
Kalilimoku, a 2003 graduate of Roosevelt High School in Honolulu, walked on to the Rainbow Warrior football team in 2004. After not receiving a scholarship, Kalilimoku said he had a chip on his shoulder with something to prove. While on the scout team running plays to prepare the offense, Kalilimoku said he felt like a "robot."
"After a few days of repeatedly following this scout D (defense) book, I remember going to bed one night and thinking to myself, how can I still do what Coach June Jones and this book is telling me, yet make a play and show my ability to get to the ball as a player?"
It was soon after that Kalilimoku made a memorable play against the offense, and got a chance to advance and practice with the defense. He quickly moved his way up from a fourth stringer to a starting role, earning a full athletic scholarship in only two months. Kalilimoku became one of the most accomplished defensive players in the program, playing in 50 career games and anchoring the defense in his 2007 senior season when the Rainbow Warriors had an undefeated regular season and appeared in the Sugar Bowl. It was these experiences that motivated him in his acting career.
"With that same drive and determination I had for football, I took this mentality and instinct with me into every goal I set out for myself. This was the same for acting," Kalilimoku said. "I am working hard and trying everything possible to get where I need to be. It is slowly paying off and I am grateful to be using this platform to help others and make a difference in every success I accomplish."
—By Marc Arakaki