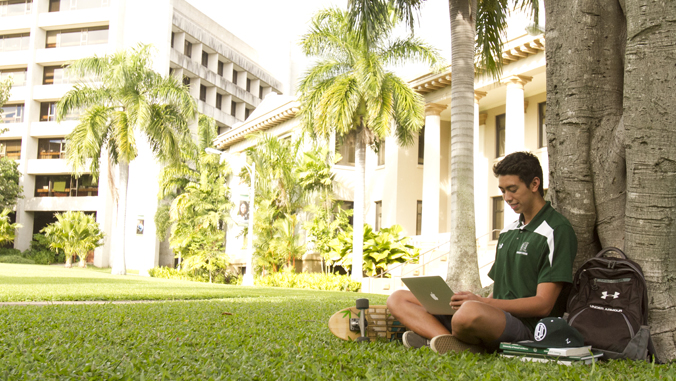 Support from the University of Hawaiʻi at Mānoa Undergraduate Research Opportunities Program (UROP) has allowed students and faculty to pursue their academic goals in research subjects as diverse as understanding homeless behaviors to the reemergence of a kind of folk music in Japan. UROP is an example of UH Mānoa's goal of Excellence in Research: Advancing the Research and Creative Work Enterprise (PDF), one of four goals identified in the 2015–25 Strategic Plan (PDF), updated in December 2020. The following three projects have been supported by UROP in the past year.
Understanding homelessness in
Hawaiʻi
Bryce Dolph, a senior psychology major, observed an individual experiencing homelessness outside of his residence, who exhibited symptoms of schizophrenia, and often had dirty bandages and visible ulcers. Dolph thought about how this person was in no condition to be living on the street and wondered how many others are in similar situations. With the guidance of Associate Professor John (Jack) Barile, Dolph's project aims to understand the disparities individuals who experience homelessness encounter, how individuals become homeless and learn about their accessibility to resources.
"There is stigma surrounding people experiencing homelessness who engage in compulsory behavior in public, and it is common to think, 'oh, they're just crazy,' without considering the circumstances they endured prior to and while experiencing homelessness," Dolph said. "The data from this project will go on to provide advocacy about how environmental factors alongside access to needed resources may influence the quality of life for this population."
Dolph received a research stipend from UROP's student project funding program allowing him to take a break from his second job and focus on his project. Dolph aspires to be a psychiatrist specializing in helping those who are in disadvantaged situations.
Shimauta folk music
Iroha Mochida, a senior Asian studies major, spent her childhood in Tokunoshima, one of eight Amami Islands in Japan. There, she studied Shimauta, traditional folk music that has been transmitted orally for centuries. While it experienced a serious decline during the middle to the late 20th century, the music has been revitalized by modern singers. Mochida's project explores the role of online media in contemporary Shimauta culture through interviews, surveys and interpreting different online media sources. Under the guidance of Anna Stirr, an associate professor and project mentor, Mochida also received support from UROP's student project funding program.
"UROP has provided a huge support for me to pursue my academic interest," Mochida said. "I am really grateful that I am conducting my own research project on Shimauta, which I had been hoping to do since my freshman year. They offer financial support as a research scholarship, and it helped me to purchase relevant sources such as academic books, journals and a subscription of newspapers. The UROP staff is always accessible."
Project funding applications open
UROP is accepting project funding applications from students conducting or planning to conduct faculty-mentored research or creative work beginning in summer or fall 2021. If selected, funding may cover materials, supplies, travel, stipend and other costs. UROP provides up to $5,000 for a project conducted by one student and up to $10,000 for a group project. The deadline for applications is March 3. To apply or for more information, visit UROP's website.
Faculty mentoring grant
UROP's faculty mentoring grant supported School of Life Sciences Assistant Professor Christopher Muir to develop an open-source software package for the R programming language to process and validate photosynthesis data. Scientists currently use a system to measure how much energy leaves gain from sunlight and R is one of the most common languages for statistical computing, especially in biology. However, there are no standardized tools to get the data into the R programming language. With the help from UH Mānoa student Daniel Trupp, Muir wanted to create a software that was more reliable.
"We put the software online and spread the word via social media," Muir said. "We got a good response, but no major bugs yet. I have been using it in my research and would like to make some more additions before eventually releasing a stable version."
UROP is currently accepting applications for its 2021 Faculty Mentoring Grant for Summer Undergraduate Research and Creative Work. Up to $75,000 in grants will be awarded to eligible faculty who will mentor UH Mānoa undergraduate students conducting research and creative work projects in summer 2021. The funds are intended to increase undergraduate student participation in summer research and creative work, including the Summer Undergraduate Research Experience, a cohort-based program from June 3 to July 30, 2021. The deadline for applications is March 1. To apply or for more information, visit UROP's website.
—By Marc Arakaki