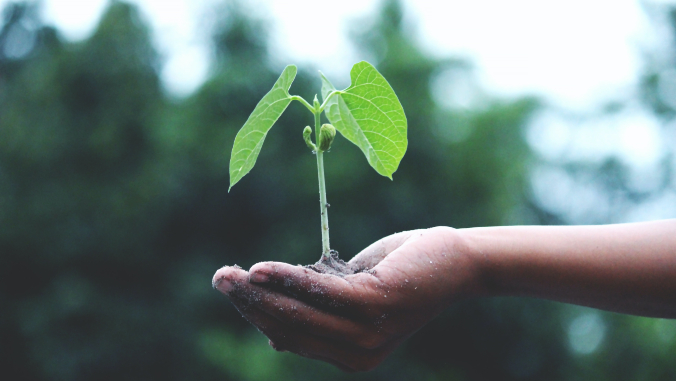 The campuses of the University of Hawaiʻi are hosting a variety of programs and events to celebrate Earth Day 2021. Find an event that interests you from the list below.
UH Office of Sustainability
The University of Hawaiʻi System Office of Sustainability hosts a series of Lunch & Learn Events beginning Friday, April 16 through April 30, 12–1:30 p.m. on Fridays. RSVP required
April 16—"Caring for Island Earth: Our kuleana in times of huliau" a conversation with

Naʻalehu

Anthony
April 23—"Learning from ancient stories to navigate climate futures through Hip-hop" with Keith Cross, MC, PhD aka Doctabarz
April 30—"Responding to the Climate Crisis with Truth, Racial Healing, and Transformation" with Makana Reilly, Siobhán Dhonacha, Monica Stitt-Bergh, Pua Souza and Matthew Kamakani Lynch
UH Hilo and
Hawaiʻi

Community College

UH Hilo and Hawaiʻi CC campuses Earth Day with Lā Honua Symposium open to UH Hilo and Hawaiʻi CC communities on April 21 12–4 p.m. and April 22 12–4:30 p.m.

This two-afternoon symposium for Hawaiʻi CC and UH Hilo kauhale (students, faculty staff) with the theme Makawalu—Environmental Kinship Across Communities—featuring kī-notes, student/faculty presentations, alumni-in-conservation panel, hands-on workshops, virtual huakaʻi (loko iʻa & native forest/watershed restoration), Chancellorsʻ sustainability highlights and more. Final schedule and registration available online.

For more information contact Drew Kapp from Hawaiʻi CC (dkapp@hawaii.edu) or Hualani Loo from UH Hilo (loorache@hawaii.edu).

The Hawaiʻi Island campuses also celebrate Earth Week for K–12 Hawaiʻi Island Students with a series of virtual Activities, including virtual huakaʻi to marine mammal center, coral reef and native forest restoration sites; conservation career presentations; keiki plant distribution; creative face mask and puppet activities, and more!

For more information contact Michelle Shuey from UH Hilo mshuey@hawaii.edu and Kaʻea Lyons (kaea.lyons@hawaii.edu) from Hawaiʻi CC–Pālamanui.
UH Mānoa
UH Mānoa celebrates Earth Day with a campus wide survey taking place from April 6 to April 15 and a virtual symposium on Sustainability Data and Tools hosted by the Mānoa Institutional Research Office on April 22.
For more information contact Yang Zhang (yz6@hawaii.edu).
Our Common Future: Action for the Climate Decade
Thursday, April 22, 2021, 1:30 pm HST
Streaming LIVE on Facebook.
Featuring Capt. Lehua Kamalu of the Polynesian Voyaging Society and Victoria Keener, Senior
Research Fellow at the East-West Center. Moderated by Robert Perkinson.
Hosted by the Office of the Governor and the Climate Change Mitigation and Adaptation Commission.
UH West
Oʻahu
UH West Oʻahu celebrates Earth Day all month long continuing their work on the Uluniu Project on campus. These events are at capacity. However, they will also host a NiuNow Arbor Day on April 20 at Helemoa-Waikiki 10 a.m.–2 p.m.
For more information contact ahaaina@hawaii.edu or Jesse Mikasobe-Kealiinohomoku (jmk23@hawaii.edu)
Honolulu Community College
Honolulu CC celebrates Earth Day all month long with a variety of virtual activities to participate in, including a Plant Showcase, Virtual Art Gallery, Trash to Treasures Contest, 'Sustainable Celebrations' tips and more. The campus is also releasing a video showcasing how sustainability has been integrated into its Welding program this month (stay tuned for details).
For more information contact Cynthia Smith (smithcyn@hawaii.edu) or John Delay (delay@hawaii.edu).
Kauaʻi

Community College

Kauaʻi CC celebrates Earth Day all month long with an online Eco-Film Festival featuring films such as "Kiss The Ground", "After The Flood", "Chasing Coral" and more, plus online workshops to compliment the film offerings.

For more information contact Jimmy Trujillo at jtrujill@hawaii.edu.
Kapiʻolani

Community College

Kapiʻolani CC is putting together a curated list of Earth Month events happening locally (on all campuses) and nationally on KSSLP's website. A poster will be sent out to students and faculty with QR code and link to the website.

For more information contact Rebecca Koeroessy at rek9@hawaii.edu
Leeward Community College
Leeward CC celebrates Earth Day with a series of online resources and activities including Upcycled Glass Workshop, Social Justice League Film Screening Series and Discussion, FREE Green Swag for 50 first Leeward CC students and Wellness Committee Healthy Cooking Challenge. Learn more at Earth Week at Leeward or Earth Week at Leeward Library Guide. For more information contact Natalie Wahl at nwahl@hawaii.edu.
UH Maui College
UH Maui College celebrates Earth Day with a series of online and in-person events including an Earth Day Pledge and Activities starting on Monday April 19; the launch of a Campus Sustainability Initiatives Survey on April 20 contact Tim Botkin (botkin@hawaii.edu) for more information; a Beach Clean-Up at Kahului Harbor from 9 a.m. to 11 a.m. on April 22 contact Meagan Jones (meaganj@hawaii.edu) for more information; Native Plantings, Clean-up and Propagation Activities at UH Maui College Kauluwehi Ethnobotanical Garden contact Nicolette van der Lee (nhv@hawaii.edu) for more information; and a Self-Guided Campus Walking Tour on April 22 contact Ellen Peterson (epeterso@hawaii.edu) for more information.
Windward Community College
Windward CC celebrates Earth Day on Saturday, April 24, 9 a.m.–12 p.m., with an in-person, socially distanced Rain Garden Work Day.
For more information contact Jon Rosen at jyr@hawaii.edu.