The University of Hawaiʻi at Hilo has launched an online map of the many gardens on campus. The Gardens at UH Hilo website gives visitors a bird's eye view of the campus with a marker on each of the gardens. There are many instructional gardens across UH Hilo's campus, some for cultural awareness, and others that offer a hands-on agricultural experience. The website invites all members of the campus community to participate in campus improvement and garden projects as a way to learn about native plants, history and host culture.
UH Hilo Botanical Garden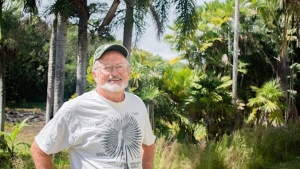 Along the campus' residence halls lies the UH Hilo Botanical Gardens which were created about 30 years ago by Emeritus Professor Don Hemmes.
"When I first came here, it was to teach botany," Hemmes said. "I was teaching the life cycle of a pine tree, and one of the students in my class raised her hand and said, 'What's a pine tree?' She had never seen one, so I planted the first pine trees over here, and it just got out of control."
The botanical gardens were carved out of an overgrown gulch and paths were built through the conifer trees for students who had never seen a live pine. Planted nearby are close to a hundred species of cycads from Africa, China, North and Central America and Australia. Hemmes, who has since retired, still maintains the lush area.
Individuals or groups are invited to visit the garden. For more information contact Hemmes: hemmes@hawaii.edu.
Other gardens on campus
Located in the quad outside of the Life Sciences buildings is the Natural and Health Science Native Forest Māla. Graduate students in the Tropical Conservation Biology and Environmental Science program and Biology Club plant and tend to the gardens.
Volunteers can help maintain and initiate new native plant projects at the Kīpuka Māla located at the Kīpuka Native Hawaiian Student Center. Work days are held twice a month. For more information, contact: kipuka@hawaii.edu
UH Hilo College of Agriculture, Forestry, and Natural Resource Management students learn first-hand about sustainable agriculture through maintaining a garden space outside the Edwin H. Mookini Library. To volunteer contact: normanq@hawaii.edu
For more go to UH Hilo Stories.
—by Susan Enright