Cutting edge skills in new media fields, including video game and esports design, digital film production, and new media theatre and dance performance, are the focus of a new University of Hawaiʻi at Mānoa certificate for undergraduate students.
Information and Computer Sciences (ICS) Professor Jason Leigh was one of seven faculty members who developed the Creative Computational Media (CCM) Certificate Program. He teaches two elective courses offered in the program on data visualization and video game design and development. Leigh said the certificate will empower students with computer-savvy skills to prepare them for careers in the media industry, which was worth about $235 billion in 2020, including $166 billion in video games.
So, if you have the passion, we'll give you the skills.
—Leigh
"The game industry itself is growing at a rate of 13% per year and computer-related jobs are at about 11% per year, and that's a rate that's double on average of all jobs in the United States," Leigh said. "Because there is such a huge demand for people with these kinds of skills right now, what we hope this certificate will do is fast track students to employers in these digital industries."
Leigh added, "The program is not an easy program. And, of course, it's not an easy program because media companies aren't going to pay you a lot of money if you don't have the passion and the skills. So, if you have the passion, we'll give you the skills."
Impact across departments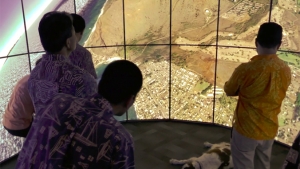 The CCM certificate program was established through a collaboration between ICS, Academy for Creative Media (ACM), Department of Electrical and Computer Engineering (ECE) and the Department of Theatre and Dance. To earn the certificate, students must complete 18 credits from a list of required and elective courses in all four departments with a 2.5 minimum grade point average. All UH Mānoa undergraduate students are invited to enroll in the program.
Leigh said the certificate was created not from a set of "talks" but a set of "dos." Individual courses were initially launched after faculty and students were interested in developing these new media skills. Leigh said the success of those courses resulted in a larger program.
The other members involved were ICS Associate Professor Guylaine Poisson, ACM Founding Director Chris Lee, ACM Chair and Professor Christine Acham and Assistant Professor Brittany Biggs, ECE Assistant Professor Darren Carlson, and Theatre and Dance Chair and Professor Markus Wessendorf and Associate Professor Kara Jhalak Miller.
"In addition to enhancing our ACM students' animation and filmmaking skills, I believe those who participate in the CCM certificate program will develop stronger communication and organizational skills, and they'll learn how to work effectively in a team setting," Biggs said. "They will also be exposed to concepts from these complementary fields, so they'll have that bigger picture understanding of what's required in these innovative creative productions."
"Interactive multimedia systems like video games, mobile apps, vehicle displays and digital health tools increasingly pair software with advanced sensors, actuators and other hardware systems—providing exciting and lucrative opportunities for engineers from a variety of disciplines," Carlson said. "For example, many modern video games are developed by multidisciplinary teams of programmers, electrical and computer engineers, mechanical engineers, and a wide range of artists and designers working in tandem to produce immersive digital experiences that feature richly detailed storylines and engaging gameplay."
Miller said that the certificate program will deepen theatre and dance students' tool kit, expand their imagination and respond to the role of digital technology as a catalyst for change locally and globally.
"It provides our students with the interdisciplinary training necessary to enter into job markets relating to digital film, screendance, theatre and dance virtual performance, and movement media art installation. Theatre and dance students who pursue this certificate will have a competitive edge in the performing arts workforce," Miller said. "One of the key puzzle pieces that the Department of Theatre and Dance contributes includes sharing experts in the performing arts field that create choreographies that form the foundation of movements that are then digitized into movement media art."
Learn from world-class resources
Leigh is also the director of the Laboratory for Advanced Visualization and Applications (LAVA), which features numerous ultra-high-resolution stereoscopic 3D and 2D touch-enabled display walls, and the world's highest resolution hybrid reality visualization system, created by Leigh.
"The virtual reality class, the video game design class and the data visualization class all use LAVA for their work," Leigh said. "At LAVA, we have the best virtual reality systems in the world, the highest-end computer graphics cards to develop video games with, so it's all there. But we're also expanding. We're creating a sister-lab at UH West Oʻahu called CreateX and this will be housed in the new Academy for Creative Media System building."
Related UH News stories:
How to apply
Undergraduate students intending to complete the certificate are advised to register as early as possible to be assigned an advisor and added to the program mailing lists for special events, guest speakers and employment opportunities. Registering will also help organizers adapt class sizes to meet demand. After completing the program, students must file a verification of minor or certificate form with their respective college prior to graduation.
For a list of courses and more details, visit the ICS website.
This program is an example of UH Mānoa's goals of Enhancing Student Success (PDF) and Excellence in Research: Advancing the Research and Creative Work Enterprise (PDF), two of four goals identified in the 2015–25 Strategic Plan (PDF), updated in December 2020.
—By Marc Arakaki