The University of Hawaiʻi LumiSight UH daily health check-in app** (available at uh.campus.lumisight.com) can now upload COVID-19 negative test results as well as vaccination cards. Unvaccinated UH students and employees are required to upload proof of a negative COVID-19 test to the LumiSight UH app to be on a UH campus or property during the fall 2021 semester. The app also verifies vaccination status and screens for possible COVID-19 symptoms and exposure.
** Apple and Android mobile app updates are currently pending release by the Apple App Store and Google Play Store. We will advise everyone when the updates are posted.
Everyone must be able to show "You are cleared to come to campus" status on the app to be on a UH campus or property. You may be asked to show your status when entering a classroom, facility or campus event. ["Cleared to come to campus" is dependent on 1) completing your daily check-in and 2) having either "Vaccination" or "Test Result" approved in Lumisight UH.]
The app will show one of the two screens below if an individual is not cleared to come campus:
Screen 1—indicates that "Daily Check-in" needs to be completed (and either vaccination card or COVID-19 test results have already been approved)
Screen 2—Daily Check-in was "Yes" (person experiencing some symptoms):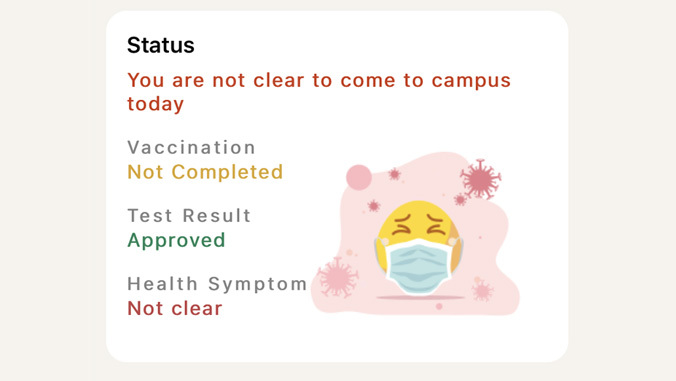 Please allow up to 24 hours for the verification process of vaccination information and COVID-19 negative test results.