A new project to develop a Hawaiian Home Lands Trust-Land Information System that will provide public access to historical documents over the last century springs from a collaboration between the University of Hawaiʻi at Mānoa Library and the UH Community Design Center (UHCDC). The initial proof of concept project, spearheaded by Archivist for University Records Helen Wong Smith, was awarded $113,119.64 from the Office of Native Hawaiian Relations (ONHR) in the U.S. Department of the Interior through the Hawaiʻi-Pacific Islands Cooperative Ecosystem Studies Unit (Cooperative Agreement Number P21AC11902).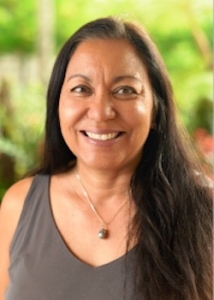 "Having Marion Kelly and Haunani-Kay Trask as my mentors in the mid 1980s, this project allows me to pass on the knowledge and passion for uncovering the history of our ʻāina that they instilled in me. To have the Department of Interior and National Park Service provide this opportunity for students reflects their commitment to future generations," shared Wong Smith.
Wong Smith will train student assistants to analyze land-related documents, identify areas for further inquiry, and develop and implement a research plan to locate and retrieve archival records from various government sources. The students will conduct reviews of land survey reports, chain of title records and historical background research for specific Hawaiian Home Lands including Nānākuli, Lualualei and Waiʻanae.
The compiled data will be provided to the UHCDC which will develop a Trust Lands Information System geodatabase that will be accessible online through the ONHR website. In addition, the center will provide data products to make information more accessible, increasing understanding of the history of the Hawaiian Home Lands Trust.
Brian Strawn, project lead at UHCDC, will be working alongside Wong Smith. "The UHCDC and its team of student employees, research associates, and graduates of the UH Mānoa's School of Architecture, are developing interactive 'story maps' that are related to specific parcels of land that will enrich the understanding of specific places," he said. "These place-based narratives will hopefully inspire visitors to the data-rich website to have a greater appreciation and connection to the lands of Hawaiʻi."
"ONHR is excited to be working with the UH Mānoa Library and the UH Community Design Center on this important new project to assemble title records and surveys for the Hawaiian Home Lands in a centralized database. When completed, researchers, Native Hawaiian beneficiaries, and others will for the first time, have ready access to the history of the Hawaiian Home Lands that documents and displays the lands that were added, removed, and exchanged from the Trust over the past 100 years," said ONHR Senior Program Director Stanton Enomoto.
This is an example of UH Mānoa's goal of Excellence in Research: Advancing the Research and Creative Work Enterprise (PDF), Becoming a Native Hawaiian Place of Learning (PDF) and Enhancing Student Success (PDF), three of four goals identified in the 2015–25 Strategic Plan (PDF), updated in December 2020.