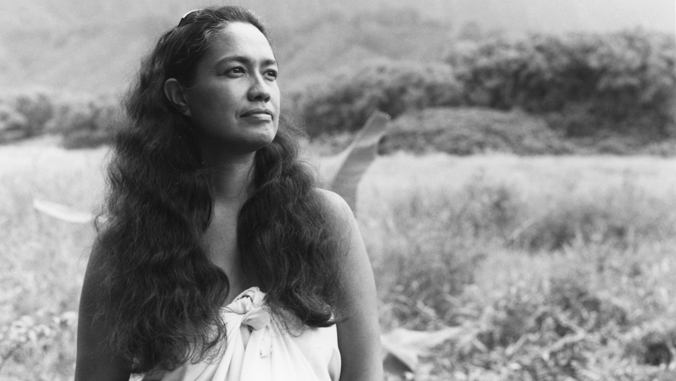 A project by University of Hawaiʻi at Mānoa faculty members to create a biography of the late Native Hawaiian leader and scholar, Haunani-Kay Trask, earned big boosts from a prominent grant and fellowship.
Led by project investigators and co-authors Noelani Goodyear-Kaʻōpua, Department of Political Science professor in the College of Social Sciences, and Kahunawai Wright, College of Education associate professor, the project earned a National Endowment for the Humanities $182,486 collaborative research grant. In addition, Goodyear-Kaʻōpua was also awarded a Lannan Foundation fellowship, which she will use toward the project. The fellowship is worth $20,000 in 2022 and is eligible for an additional $20,000 in 2023.
"Kumu Haunani-Kay gave us chain-breaking political oratory; she fought for and nurtured the space to grow Hawaiian Studies; she offered the public incisive analysis of militarization, tourism, and sexual violence. She helped Hawaiʻi reclaim historical truths and was one of the fiercest voices the lāhui Hawaiʻi has ever had," Goodyear-Kaʻōpua said.
"At Mānoa, her deep aloha for Kānaka bore a fearlessness in her leadership which has transformed higher education for generations of Kānaka," Wright said. "We also see the enduring relevance her scholarship and leadership has for communities here in Hawaiʻi and abroad as it continues to inform and inspire even forty years after she published her first book. Working to document and reflect upon her amazing legacy is an honor of a lifetime."
A poet, political scientist, activist, and international advocate for human and Indigenous rights, Trask was one of the most influential Native Hawaiian scholars of the 20th century. Her life and works contributed to the global rise of Indigenous subjectivity, and she profoundly shaped Hawaiian movements for justice from the 1970s.
Trask started her extensive academic career at UH Mānoa in 1981 as an assistant professor in the American studies department with expertise in feminist theory and Indigenous studies. She is credited with co-founding the contemporary field of Hawaiian studies and went on to become the founding director of the UH Mānoa Center for Hawaiian Studies. Trask retired in 2010.
Charting Trask's roots and routes, the project illuminates connections between major social movements that transformed Hawaiian, Pacific and American life in the late 20th century and early 21st centuries, including the ways such movements changed universities and land use. The book will also shed light on ways Native Hawaiians have navigated, organized and built solidarities against inequalities in the U.S. and Oceania.
A draft of the biography will be completed at the end of the two-year grant period. A published biography is expected by early 2025.
Additional UH Mānoa project collaborators include Department of English Assistant Professor Noʻu Revilla and Professor Craig Howes.
Related UH News stories: