Artists with ties to the University of Hawaiʻi at Hilo are participating in an exhibition exploring "Art and Anarchy." The show is being held in conjunction with the 2021 Pacific Association for the Continental Tradition philosophy conference, which was hosted by UH Hilo at Hawaiʻi Volcanoes National Park in early September.
The art exhibit, sponsored by the UH Hilo art and philosophy departments, in collaboration with the Volcano Art Center where the show is being held, will run through October 1, both online and in person.
Faculty showing their work at the exhibit include Professor of Art Michael Marshall; Associate Professor of Art Jon Goebel, UH Hilo art department chair; and art lecturer Kevin Diminyatz.
The show will also feature work by Monica Mann, a ceramics instructor at Hawaiʻi Community College and former visiting artist at UH Hilo.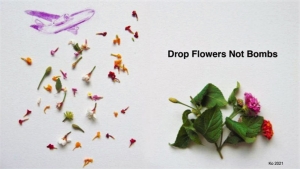 Also participating is current UH Hilo student Jennifer Ko, and alumni, Hawaiʻi CC lecturer Tobias Brill (1994) and Ezra Rose (2020).
Tim Freeman, an assistant professor of philosophy at UH Hilo who creates pit-fired clay vessels, helped organize the Art and Anarchy show.
"Although anarchism is still popularly associated with a descent into chaos and violence, as a political philosophy it was never about bringing about disorder and chaos, but rather the liberation of humanity from oppressive order," Freeman explained. "What the anarchist philosophers were advocating was a new kind of order, different from the authoritarian order that enforced such great inequities in society. The main goal of anarchism as a political philosophy was the maximation of both liberty and equality," he adds.
The show may be viewed in person Wednesday through Sunday, 10 a.m. to 4 p.m. at the Volcano Art Center's Niaulani Campus. The exhibit is also featured online.
For more information, go to UH Hilo Stories.
—By Susan Enright