A University of Hawaiʻi pioneer in online instructional design has received recognition from a national university organization. Helen Torigoe is an instructional designer at Kapiʻolani Community College. In 2016, she created the Teaching Online Prep Program (TOPP) to promote instructor preparation and online community building through a collaboration between teaching faculty and instructional designers. She and her TOPP team have given teaching new meaning in their support of distance education (DE), bringing student learning and achievement to a creative and dynamic forefront using online tools.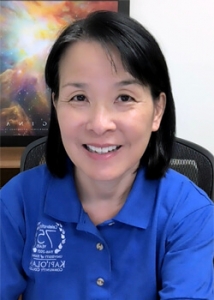 Her vision for building a collaborative online community between teaching faculty and instructional designers, has extended beyond the campus. This year, Torigoe was awarded the 2021 Western Regional Outstanding Service Award from the University Professional and Continuing Education Association (UPCEA) in Washington, D.C. The TOPP team also won a national award from the UPCEA last year.
Torigoe said, "The success of distance education at Kapiʻolani CC is due to the collaborative efforts of many: our amazing faculty and staff, supportive administration, talented DE team and, most of all, our resilient students. I am honored to be a part of the team and I'm grateful that I can serve Kapiʻolani ʻohana."
To convey her appreciation, she created a mahalo video and posted it to YouTube.
More on TOPP
The TOPP program just graduated its 15th cohort and welcomes anyone preparing to teach online or hybrid for a UH campus.
Since 2016, TOPP has trained 182 faculty members from eight UH campuses, bringing together seasoned tenured faculty, new tenure-track faculty and lecturers from many backgrounds and disciplines. TOPP has been instrumental in the pre-COVID growth of online learning and meeting the high demand during COVID and has allowed the college to address the needs of full-time, part-time and non-traditional students.
Torigoe was also awarded the 2019 Wo Change Agent Award for promoting diversity, access and inclusion in the online environment for both students and faculty members who have transitioned to online learning. She is also part of the DE Implementation Team at Kapiʻolani CC that was named the 2020 UH Team of the Year and was the university's nominee for the Governor's Award.