South Korean President Moon Jae-in and University of Hawaiʻi leaders paid tribute to two Hawaiʻi women who immigrated from Korea as revered "women patriots" at a ceremony on the steps of UH Mānoa's Center for Korean Studies on September 22.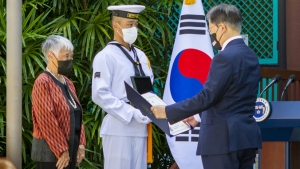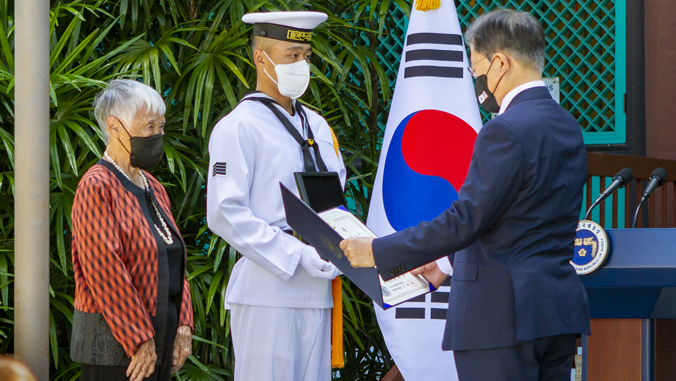 The award, presented posthumously to Chung Song Lee Ahn (1895–1989) and Nodie Kimhaekim Sohn, widely known as Nodie Kim (1898–1972), recognizes their groundbreaking efforts in the Korean independence movement after coming to Hawaiʻi in the early 1900s. Their relatives attended the ceremony to receive the award.
The names of Ahn, Nodie Kim and other Korean immigrants to Hawaiʻi who advocated for Korean independence were discovered through extensive research through a project from the Center for Korean Studies called "Korean Immigration History and Diaspora Studies." The research resulted in multiple awards to women in Hawaiʻi such as Ahn and Nodie Kim in recent years.
"I am so glad to see the hidden women patriots being recognized by President Moon," said Tae-Ung Baik, Center for Korean Studies director and professor of law. "This award of the Order of Merits was a result of year-long efforts of the researchers including Duk Hee Lee Murabayashi at the Center for Korean Studies. President Moon's visit is the second visit of a South Korean president to the Center since 1981, which clearly attests the excellence of the research being led here."
The Center for Korean Studies at UH Mānoa is the largest Korean studies research institution in all the Americas and boasts more than 40 Korean studies professors and experts conducting academic research and education.
The ceremony was limited to about 30 people due to COVID-19 restrictions. UH President David Lassner, UH Mānoa Provost Michael Bruno, UH Mānoa College of Arts, Languages & Letters Dean Peter Arnade were among the UH officials who attended and greeted President Moon when he arrived.
More about the awardees
Born in Pyongyang, North Korea, Ahn graduated from Ewha Hakdang School in 1913 and Japan Women's Seminary in Yokohama in 1918, before teaching at Pyongyang Women's Seminary. She came to Honolulu in January 1919 and was active in most Korean organizations in the state, including serving as a representative to the United Welfare Fund Drive, chairperson of the Korean YWCA, president of the Korean Women's Relief Society, president of Women Kuk Min Hur (Korean National Association) and president of the Ewha Women's University Alumnae Association of Hawaiʻi. Ahn was also a member of the Korean Chamber of Commerce, Women's Service Group of the Methodist Church, Hawaiʻi Chapter of the Korean Independence Party of Patriotic Women's Society, Pan Pacific and Southeast Asian Women's Association, Post-War Women's Relief Organization.
Nodie Kim grew up in Hawaiʻi after coming to the islands in 1905 with her parents. After graduating from Oberlin College in Ohio in 1918, she became the principal of the Korean Christian Institute, to which she devoted much of her time until 1945. She was active in both church and community organizations, serving as the president of the Korean Ladies Relief Society, manager and liaison officer of the Dongji Hoi, trustee and treasurer of Korean Missions in Honolulu, trustee of the Korean Christian Church, and director of the Korean Old Men's Home. In 1952, Nodie Kim went to Korea to receive an appointment as the director of the Republic of Korea Office of Procurement and also became the vice-president of the Korean Red Cross.
More on the Center for Korean Studies
Established in 1972, the Center for Korean Studies seeks to promote interdisciplinary and intercultural approaches to Korean studies by drawing on its faculty members in more than a dozen different disciplines, ranging from anthropology, to education and urban and regional planning.
This work is an example of UH Mānoa's goal of Excellence in Research: Advancing the Research and Creative Work Enterprise (PDF), one of four goals identified in the 2015–25 Strategic Plan (PDF), updated in December 2020.