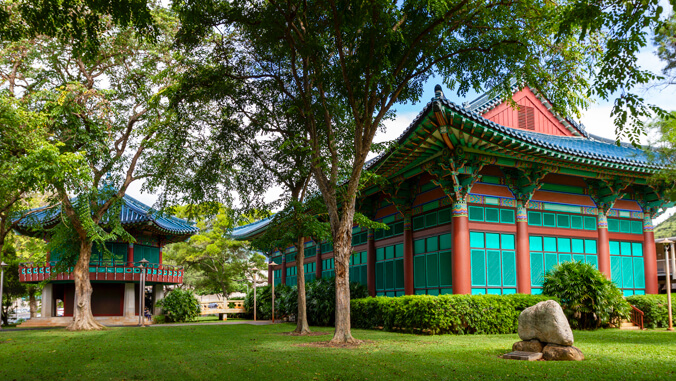 The public is invited to attend a commemoration ceremony planned for the Center for Korean Studies (CKS) at the University of Hawaiʻi at Mānoa campus on Thursday, September 22, 1–4 p.m. at CKS' auditorium. Established in 1972, the center is recognized as the oldest and largest in the U.S. and Canada, serving as an educational, research and cultural hub. Hawaiʻi's geographic location has propelled the center to play a key role in bringing together scholars and intellectual leaders.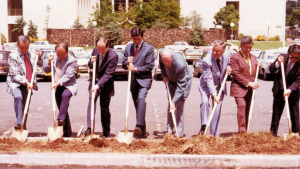 "The Center for Korean Studies aspires to become a new icon that leads the changes in the modern world," said Tae-Ung Baik, director at CKS. "Along with the global spread of Hallyu, the Korean Wave, and popular culture in the international community, the center will continue its efforts to serve as a hub for the Korean studies networks fostering international cooperation, academic exchanges, and economic and social developments across the borders."
Located on the Diamond Head end of the UH Mānoa campus, the center's distinctive stonework, painting and dark green glazed ceramic tiles set an authentic ambiance. The main building is modeled after Kunjŏngjŏn, a traditional Korean palace throne hall and was completed in December 1979.
Today, CKS is made up of more than 40 affiliate members from UH in a variety of fields such as language, history, literature, economics, anthropology, media broadcasting, music, architecture, and law. It hosts art and performance exhibitions, workshops and a wide array of lectures.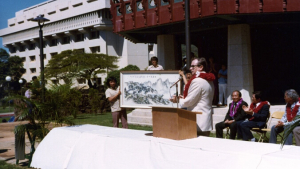 The commemorative ceremony will award plaques to Duk Hee Lee Murabayahi, Bong Youn Choy, Roberta Chang and the late Dae-Sook Suh, CKS' founding director and a UH Mānoa emeritus professor in political science. The ceremony will also feature a workshop based on stories of Korean immigrants' education and CKS educators.
A historical photo exhibition will be on display through September 28, 8:30 a.m.–4 p.m. To RSVP for in-person attendance, email coord@hawaii.edu.
Immigration to the islands
Hawaiʻi's rich history with Korea traces back to January 13, 1903 when 102 Koreans first entered Honolulu aboard the S.S. Gaelic. Within two years about 7,400 immigrated to the islands, many eager to work on Hawaiʻi's plantations and send their earnings back home.
In 1954, UH Mānoa responded to a collective push to strengthen Korean language studies and launched its very first course on campus. In 1967, more than a dozen UH Mānoa professors advocated for a Korean studies-focused center to develop programs and resources at UH and around the world.