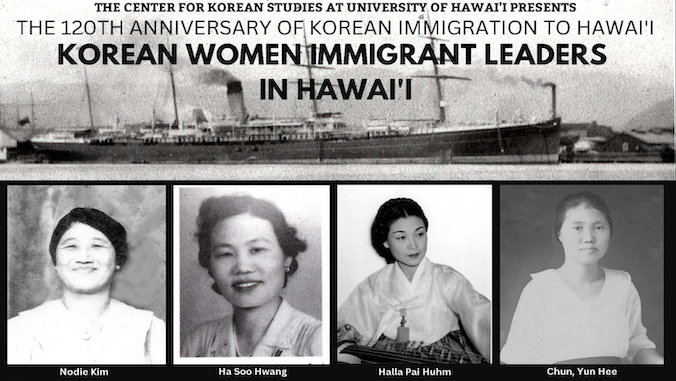 The first wave of 102 Korean immigrants arrived in Hawaiʻi on January 13, 1903 to work in the pineapple and sugar plantations. In the last 120 years, Korean Americans have become a vital part of Hawaiʻi's diverse island culture, and today, more than 50,000 residents identify as Korean.
The early Korean community was enriched by several women whose roles were not much known, but they were active leaders in education, social work and promoting Korean culture.
—Tae-Ung Baik
In commemoration of the 120th anniversary of Korean immigration to Hawaiʻi, the University of Hawaiʻi at Mānoa Center for Korean Studies (CKS) hosted a symposium on January 26 focusing on early Korean women immigrant leaders in Hawaiʻi. The event is part of a partnership with the Mayor's Office of the Culture and the Arts.
"Korean immigrants in Hawaiʻi were living as stateless people for a long time, but they were special because they did not just stay at home only to earn living, but they organized themselves through the churches, establishing schools and social organizations, and actively supporting the independent movements by sending donations to the Korean provisional governments and activists," said Tae-Ung Baik, director at CKS and professor of law.
"The early Korean community was enriched by several women whose roles were not much known, but they were active leaders in education, social work and promoting Korean culture. The 120th celebration of Korean immigration is the appropriate occasion to learn about the accomplishments of these leaders," he said.
Stories of inspiration
"This symposium featured rich discussion on the life stories of four Korean women and their struggles, accomplishments, dedication and contribution to the Hawaiʻi community," said Seunghye Hong, associate professor at the Thompson School of Social Work & Public Health, who organized the symposium.
Nodie Kim (1898–1972), who arrived with her parents and siblings in 1905 and became the first Korean woman principal in

Hawaiʻi

Ha Soo Whang (1892–1984), who came to the U.S. as a student in 1911 and was the first Korean social worker in

Hawaiʻi

Halla Pai Huhm (1822–1994), who married a second-generation Korean, arrived in 1950 and was the founder of the oldest Korean dance studio in the U.S.
Chun, Yun Hee (1896–1997), who came as a "picture bride" in 1915 and recorded her life through 24 audio tapes and seven notebooks
A panel of current Korean women leaders shared their stories, including Duk Hee Lee Murabayashi, president of the Korean Immigration Research Institute Hawaii; Jeomsook Kim, associate professor, Myongji University; Trina Nahm-Mijo, retired faculty, Hawaiʻi Community College; Mary Jo Freshley, director of the Halia Huhm Korean Dance Studio; and Yelee Ann, associate professor, Academy of Korean Studies.
A short documentary, Songs of Love from Hawaiʻi, was also screened during the symposium, and demonstrated the history of Korean immigrants with Violinist Iggy Jang's performance.
Related: Lt. Gov. credits UH with launching public service career, January 25, 2023
Recognizing current female Korean leaders, Baik added, "We are very proud that Ms. Sylvia Luke became the first Korean American woman elected to the highest state government position throughout the country!"
This symposium was supported by the Korean American Foundation Hawaii, the Asia Research Foundation, and the Academy of Korean Studies Strategic Research Institute Program (AKS-2020-SRI-2200001).
Photo exhibit, displays at Honolulu Hale
Also part of the 120th commemoration is a photography exhibition that spotlights Korea's postwar period and the Korean immigration to Hawaiʻi, which is currently on display at the Honolulu Hale courtyard through February 10. In addition, on display in the city's Lane Gallery are 40 rubbings from the tombstones of early Korean laborers, taken from cemeteries on Oʻahu and Maui.