This past summer, eight graduate students from across Hawaiʻi dove into a month-long course to harness the power of technology to understand and advance marine science and future ocean health. The partially in-the-field class, "Applying Innovative Technologies in Marine Science," at the University of Hawaiʻi at Mānoa Hawaiʻi Institute of Marine Biology (HIMB), gave students a chance to explore the ever-changing world of innovative technologies and apply them to their own research. The course was sponsored by Schmidt Ocean Institute.
"What's great about the Hawaiʻi Institute of Marine Biology is that we have such great access to the reefs—I would say unparalleled access to reefs," said Elizabeth Madin, a HIMB assistant research professor. "It allows us to bring the students directly into the field and have both the lab experiences and the field experiences. So for the summer course, it's kind of an ideal place to do this sort of work where you can get it all in one day."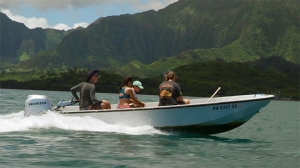 New technology and innovation is allowing researchers to answer questions that they have never been able to before. Through this course, students are equipped to take the next steps in examining how humans are changing marine ecosystems and develop solutions for the future.
"What's happened in the last decade is truly incredible," said Joshua Madin, a HIMB associate research professor. "We can take camera equipment down there and create three dimensional maps of the reef that is just like a terrestrial ecologist walking through a forest. We can bring that back to the lab and start asking deeper questions to understand very complicated problems."
"We were absolutely thrilled to partner with Schmidt Ocean Institute to offer this course," said Judy Lemus, specialist and former interim director of HIMB. "HIMB is a recognized leader in marine science graduate education, and opportunities like these are seminal experiences in the development of our next generation of marine scientists."
This course is an example of UH Mānoa's goal of Enhancing Student Success (PDF) and Excellence in Research: Advancing the Research and Creative Work Enterprise (PDF), two of four goals identified in the 2015—25 Strategic Plan (PDF), updated in December 2020.