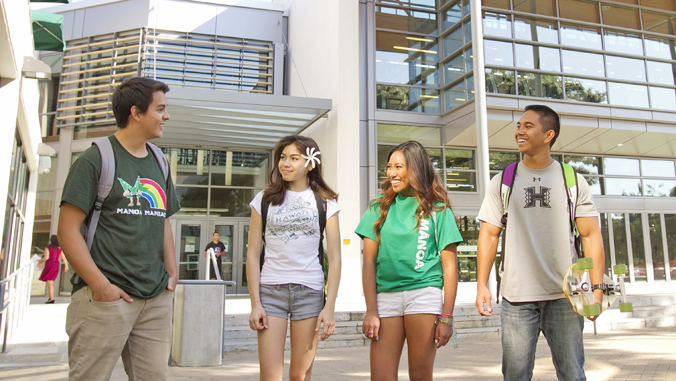 The University of Hawaiʻi at Mānoa posted its largest increase in enrollment since 2003 in the fall 2021 semester, a 6% jump compared to fall 2020. With 19,098 students enrolled, it is also the first time UH's flagship campus has exceeded 19,000 students since 2014.
Related: Enrollment across UH system increases for first time in 10 years
A key factor for enrollment was a record high number of first-time freshmen, 2,939 students, a 34.6% increase from fall 2020. First-time freshmen were up across just about every category including from Hawaiʻi public high schools (+22.7%), U.S. continent high schools (+68.6%), mainland students who enrolled through the Western Undergraduate Exchange program (+65.4%) and international students (+37.5%). UH Mānoa received both quantity and quality as the average GPA of the incoming freshman class was 3.68, up from 3.65 last year.
Mānoa also welcomed its largest class of transfer students from UH community colleges and other schools. A total of 1,828 incoming transfer students are now attending, a 5% increase from the previous year.
Graduate enrollment also increased by 5%, the fourth consecutive increase in fall enrollment, and the largest numerical increase since 2004. Research doctoral enrollment increased 7.5%, while masters enrollment was up 5.3%.
Enrollment of Native Hawaiian students increased 2.3% at UH Mānoa to 2,770 and represent 14.5% of the campus's total student body in fall 2021.
"This increase in enrollment highlights the dedication and hard work of our enrollment team, faculty, staff and administrators to provide high quality, relevant education, even during these challenging times," said UH Mānoa Provost Michael Bruno. "We are proud that so many have chosen UH Mānoa for their academic and professional studies, and we will continue our efforts to improve and adapt to the changing needs of our students."
UH Mānoa fall 2021 enrollment highlights by the numbers
Total headcount: 19,098 (+6.7%)
First-time freshmen: 2,989 (+34.6%)
Classified graduate students: 4,684 (+5%)
Native Hawaiian students: 2,770 (+2.3)