One of Hawaiʻi's largest lesbian, gay, bisexual and transgender (LGBT) Pride celebrations is held every October on Oʻahu. This year, Ian Tapu, a recent graduate from the University of Hawaiʻi at Mānoa William S. Richardson School of Law, wanted to ensure Honolulu Pride reflected a Native Hawaiian sense of place. Tapu, a queer Sāmoan-Tongan, followed his vision and joined the Hawaiʻi LGBT Legacy Foundation to help produce the annual event with the goal of intertwining more of an Indigenous approach that Pacific Islander māhū (identity with male and female characteristics) in Hawaiʻi can easily connect to.
"Sometimes, I feel that when we have conversations about or advocate on behalf of the LGBTQ+ community, it is framed in a way that separates or distinguishes our other identities," said Tapu. "Especially as Indigenous people or people across the moana (ocean), sexuality and gender is part and parcel of what it means to be truly connected to our islands, our ancestors and our culture. If we're going to celebrate Pride, I want to make sure we celebrate every aspect of our being."
Tapu helped coordinate a traditional Hawaiian ceremony to officially open Honolulu Pride festivities. Oli (chants) were offered and observed in Waikīkī fronting four large boulders known as the Kapaemahu stones. The stones, located inside a historical monument at Kūhiō Beach Park, are believed to be infused with healing powers from four extraordinary beings of dual male and female spirit who brought the healing arts from Tahiti to Hawaiʻi. Participants also have opportunities to hear from Queer Indigenous speakers featured in several virtual forum events.
For Tapu, seeing his vision come to life at Honolulu Pride is truly heart-warming. He calls Pride "magical," partly because it's where he first met his partner, Alika, four years ago. After Pride wraps up, both will have more time to plan their wedding, Tapu proposed at the height of the pandemic.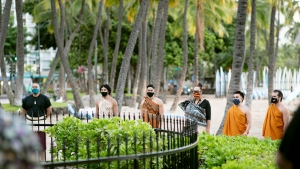 The 2020 UH law school graduate's career is also on a nice trajectory. catapulting. Tapu is currently a law clerk at the Hawaiʻi State Judiciary. Past work with the American Civil Liberties Union in New York City provided a platform to advocate for LGBT rights and led him to publish an article in the Hawaiʻi Bar Journal on the importance of cultural competence in working and interacting with transgender and gender-nonconforming individuals.
"Being queer absolutely shapes my career goals, in the same way that being Polynesian and being from Hauʻula also shapes my ambitions," Tapu said. "Much of what I want to do involves understanding, critiquing and reshaping systems of power that have been utilized to oppress."