Providing landscape architecture faculty, staff and students with a way to address their kuleana (responsibility, privilege) through work that enhances Hawaiʻi's built environment and landscape in resilient and sustainable ways earned the University of Hawaiʻi Community Design Center (UHCDC) multiple awards in October. The awards were presented by the Hawaii Chapter of the American Society of Landscape Architects (ASLA) and the Hawaii Chapter of the American Planning Association (APA).
Awards: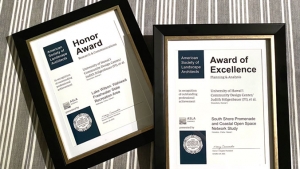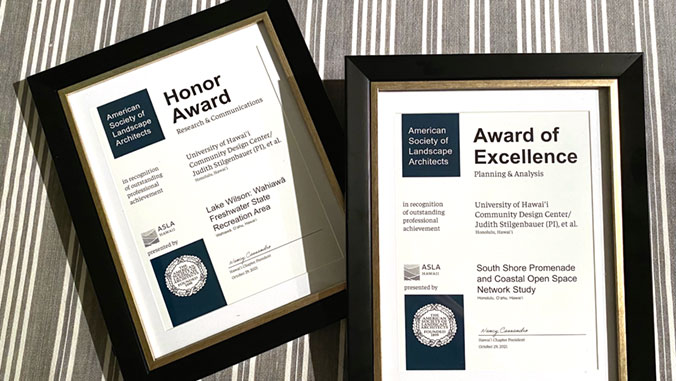 2021 Urban Design Award, APA Hawaiʻi Chapter
2021 Award of Excellence (Analysis and Planning), ASLA Hawaii
2021 Honor Award (Research and Communications), ASLA Hawaii
2021 Malama ʻĀina Award, ASLA Hawaii
Winner: UHCDC, accepted by Cathi Ho Schar, director, on behalf of UHCDC.
The Malama ʻĀina Award recognizes individuals or organizations outside the field of landscape architecture for distinctive efforts in promoting the preservation and enhancement of Hawaiʻi's landscape.
"The teaching and research efforts of our landscape architecture faculty truly earned the center this prestigious recognition," said Ho Schar. "I'm grateful that the award shines a light on their work and our center as a collective of designers and thinkers working to help Hawaiʻi."
The APA Hawaiʻi Chapter awards recognize work that exemplifies the planning profession's highest goals and ideals.
"We all put a lot of energy and 'love' into our work! It feels rewarding to see urban landscape design research, such as these two state funded UHCDC projects I have had the pleasure of spearheading, along with a wonderful team of landscape and architecture students and staff, recognized as innovative and award-worthy," said Stilgenbauer, principal investigator of the projects and a professor in UH Mānoa's School of Architecture. "I really believe that this kind of professional peer recognition speaks volumes in terms of the impact and the real-world contributions of UHCDC's forward-looking proof-of-concept design work!"
UHCDC provides funded opportunities for collaboration, applied research and employment that have the potential to make a real difference in this fast-evolving world. Through Ho Schar's leadership and tireless work over the past five years, the UHCDC has evolved into a well-funded powerhouse of public-interest practice committed to helping Hawaiʻi through design.
"The center's peer-recognized work, for example projects related to climate crisis adaptation and coastal resilience design, have made a big difference for our school in terms of recognition, as well as landscape architecture student and faculty recruitment and retention," said Stilgenbauer, who directs the Master of Landscape Architecture program.
The UH team is grateful to Sen. Donovan Dela Cruz, past Sen. Brickwood Galuteria—and the state legislature as a whole—for believing in the ideas behind these projects and for funding the work. They also want to give a special thank you to the State of Hawaiʻi Office of Planning and Sustainable Development, Department of Land and Natural Resources and the Wahiawā community.
These awards are an example of UH Mānoa's goal of Excellence in Research: Advancing the Research and Creative Work Enterprise (PDF), Building a Sustainable and Resilient Campus Environment: Within the Global Sustainability and Climate Resilience Movement (PDF) and Enhancing Student Success (PDF), three of four goals identified in the 2015–25 Strategic Plan (PDF), updated in December 2020.