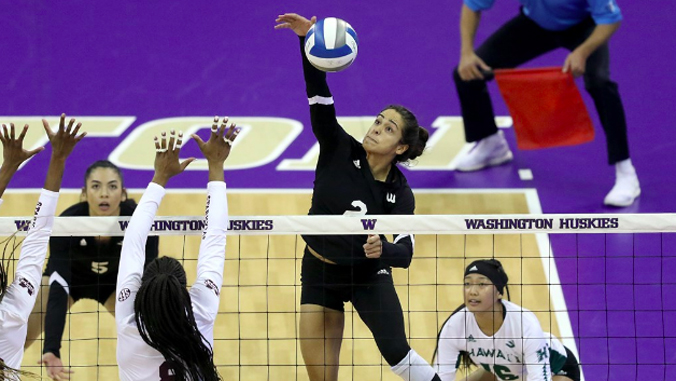 The 2021 season has come to an end for the University of Hawaiʻi at Mānoa Rainbow Wahine volleyball team after a postseason loss in three sets to the No. 15 seed University of Washington. The Rainbow Wahine fell in the second round of the NCAA Tournament, 25-16, 25-14 and 25-13 in Seattle, Wash. on December 4.
Sophomore middle blocker and Big West first team selection Amber Igiede led the Rainbow Wahine once again with eight kills hitting .467, and three blocks. Senior outside hitter and Big West Conference Player of the Year Brooke Van Sickle added seven kills.
Match flow
It was a tight contest to open set one as the Rainbow Wahine trailed by one point at 7-6 on a kill by sophomore outside hitter Riley Wagoner. Washington then slowly pulled away as it went on several mini-runs when UH only managed sideouts. The Huskies led by as much as 10 at 23-13, and closed out the set 25-16.
The second set was all Huskies. UH opened the set up 2-1, but that was followed by a dominant 7-1 run by Washington, forcing the Rainbow Wahine to burn their first timeout of the set. Things didn't get any better as the Huskies went on a 5-1 run, pushing UH to use its final timeout of the set down 13-4. The 'Bows put up a fight on a service ace by freshman outside hitter Martyna Leoniak and kills by Wagoner and Igiede to close the deficit to eight at 16-8, but the Huskies ran away with the second set, dispatching UH 25-14.
The Huskies kept their momentum early in the third set, going up 7-1 on an attack error by the Rainbow Wahine. UH kept within striking distance, narrowing the deficit to five at 13-8 on a kill by freshman setter Kate Lang. However, a quick 5-point run by Washington forced the 'Bows to call a timeout at 18-8. The Huskies never looked back taking the third and final set 25-13.
UH's season ends with a 22-8 overall record, 18-2 in the Big West Conference and a Big West Conference championship.
—By Marc Arakaki