This message was shared with the students, faculty and staff of the University of Hawaiʻi at Mānoa on January 28, 2022.
Aloha UH Mānoa students, faculty and staff,
Monday, January 31, is an important milestone as we fully reopen the campus for the first time since 2020! Our campus leadership team is so excited to welcome everyone back to campus. The courage and compassion that you have exhibited during these last two years in response to this unprecedented health crisis has been nothing short of amazing.
We are proud and encouraged by the fact that the vast majority of students, faculty and staff are vaccinated. More than 97% of our students and 91% of our faculty and staff are fully vaccinated, and the number of positive cases in Hawaiʻi is now trending downward from record highs. A quick friendly reminder, there will be vaccination/booster clinics Wednesday, February 2 and Wednesday February 23, from 9:00 a.m. to 1:00 p.m. in the UH Mānoa Campus Center, 2nd Floor, Executive Dining Room. If you haven't already, please get your booster as soon as possible.
Time to return
As I stated in my January 11 message to the campus, we welcome everyone back with aloha, lokomaikaʻi (kindness) and mutual respect for one another. We understand that there is apprehension and even anxiety among many in our community, in particular among those who have not been on campus in a very long time. Please know that we will continue to do everything we can to ensure that our working and learning spaces are the safest environments on Oʻahu. The key factors in our decision to resume in-person instruction and activities include:
In a limited number of courses, we have granted a two-week extension to the online period. Our intention is for these courses to resume in-person instruction starting February 14.
Spring 2022 Kick-Off Event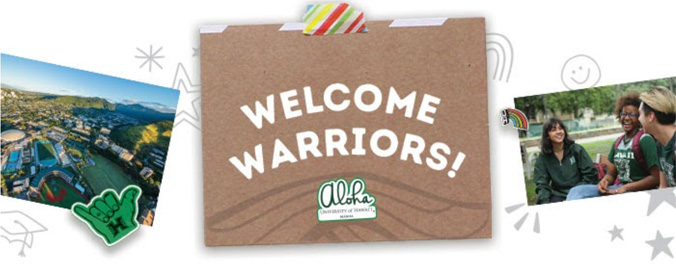 It's been a while since many of us have been on campus, and it will be the first time for others. Join us at our Spring 2022 Kick-Off Event at Campus Center on Monday, January 31 from 10 a.m. to 1 p.m. to introduce or reintroduce everyone to all of the services and resources available to the community, including:
Mānoa Dining Services
University Health Services Mānoa
Department of Public Safety
PAU Violence and Mānoa Advocate
KOKUA Program for students with disabilities
Native Hawaiian Student Services
Atherton YMCA programs
You can also win prizes, and the more tables you visit, the better your chances of winning.
Additional resources
There are many resources to list, but here are a few:
UH Mānoa has never looked better
Please take the time to enjoy our campus! Campus Center recently completed a renovation and the state-of-the-art Life Sciences Building near Hamilton Library opened in 2020. The facilities teams took full advantage of the empty campus to pave roads, fix sidewalks and trim trees. Our campus was already beautiful, as one of the few accredited arboretums in the country, and it has never looked better!
Online students
For those students who are 100% online this semester, we really look forward to having you back in the summer and for future semesters. And remember, you can access all available campus services, resources, facilities and events as long as you follow the COVID-19 guidelines and vaccination policies.
Let's remember to treat each other with respect and patience and enjoy the rest of the semester as it should be, with all of us together. We look forward to continuing teaching, learning, discovering new knowledge, and graduating students uninterrupted. It is TIME to appreciate the many resources that now allow us to safely return. We have learned much from the pandemic and we will continue to adapt as we take these next steps in support of our campus community and Hawaiʻi.
E mālama pono,
Michael Bruno
UH Mānoa Provost