Prostate cancer is one of the most commonly diagnosed, deadliest cancers for men in Hawaiʻi. To increase public understanding of the causes of prostate cancer, the University of Hawaiʻi Cancer Center will lead a $3.5 million public impact research study to further our understanding of prostate cancer to improve prediction of future disease.
Annual statistics for prostate cancer in Hawaiʻi according to the Hawaiʻi Tumor Registry (PDF):
855 men are diagnosed with invasive prostate cancer
125 men die of prostate cancer
Filipinos have the highest advanced stage prostate cancer rate at 35%
95% of prostate cancers are diagnosed at age 55 years and older
Related UH News story: Cancer impact in Hawaiʻi examined in UH Cancer Center report, May 20, 2022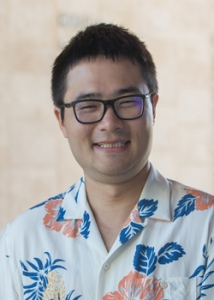 Funded by the National Cancer Institute, the research team is led by UH Cancer Center Assistant Professor Lang Wu. Wu's aim is to apply his findings across a variety of populations, including at-risk ethnic groups in Hawaiʻi and the Pacific.
As principal investigator, Wu will lead a research team, investigating the causes of both overall and aggressive prostate cancers through novel methods across African and European populations in the U.S., and other countries. They will identify proteins that play a role in the development and progression of prostate cancer.
"For prostate cancer, substantial efforts have been made to identify high-risk populations to improve prostate cancer screening," Wu said. "However, the performance of available prostate cancer risk predictive models remains unsatisfactory. Through this study, we hope to generate new knowledge to improve the understanding of prostate cancer etiology (causes) and risk assessment."
Wu also aims to develop and validate useful predictive models for prostate cancer risk and aggressiveness by incorporating information of the newly determined proteins with genetic and non-genetic information, and applying multiple novel statistical methods.
The expectation is that developing improved predictive models can help identify individuals who are at a high risk of developing prostate cancer.