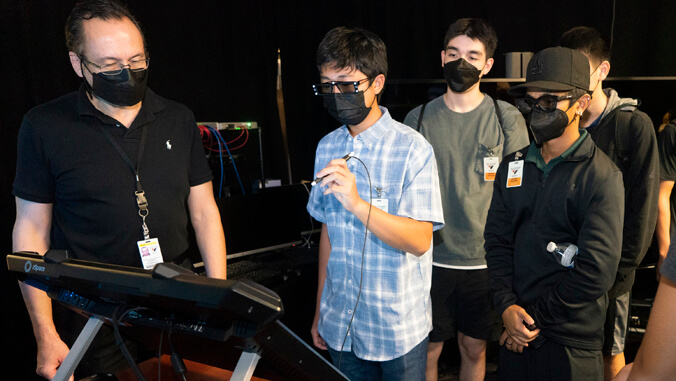 A valuable University of Hawaiʻi at Mānoa engineering program provided 15 rising high school seniors from Hawaiʻi and Japan with opportunities to conduct meaningful laboratory research, engage in professional development and cultural activities, participate in engineering challenges, and visit with engineering firms to explore career opportunities in a variety of settings.
The College of Engineering's signature internship program relaunched this summer after a four-year hiatus and is now known as the Junior Engineers Summer STEM Experience (JESSE). To be selected for JESSE, interns underwent a rigorous application process that included submission of transcripts, teacher recommendations and essays demonstrating their passion for engineering.
At the start of the program, each intern was paired with an engineering lab and mentor—most of whom were graduate students—and given a meaningful research project to complete either individually or in a small group setting. Seven labs participated and spanned different engineering topics, from drone technologies to aerospace to water resources and geotechnical testing.
Sprinkled throughout the weeks of lab time were additional educational opportunities such as resume workshops, public speaking and presentation training and site visits to various local employers. Participating industry partners included KAI Hawaii, Trane Technologies, Raytheon, Austin Tsutsumi & Associates, Naval Information Warfare Center Pacific, Booz Allen Hamilton, Honolulu Authority for Rapid Transportation, SSFM International and Burns & McDonnell.
Engineering student learns valuable leadership lessons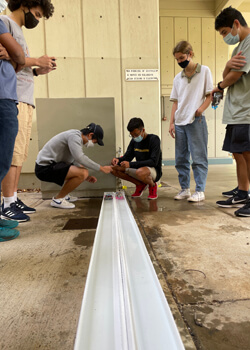 At the helm of JESSE were the college's Engineering Student Ambassadors—current students who conduct STEM outreach programs and plan college events throughout the year. JESSE lead and rising mechanical engineering senior Dedrick Sakuma handled the program coordination and logistics, and also developed a mentor relationship with many of the interns, advising them on academics and college life.
"Working with these rising high school seniors was definitely an unforgettable experience," Sakuma said. "It was a pleasure getting to know them and we hope to see many of them at UH next fall, or else back in Hawaiʻi in the future as engineering professionals."
The internship culminated in a final evening at UH Mānoa in which the interns enjoyed dinner and presented their research findings and program outcomes to an audience of family, friends, mentors and college faculty. Assistant Dean Song Choi was one of the many attendees who were blown away by the interns' caliber of work and presentation abilities.
"Having been involved from the beginning of the UH Mānoa College of Engineering summer internship program from 20 years ago, the quality of internship projects and the professional presentations were both beyond any caliber displayed in any of the past years," said Choi. "This year's project groups were exceptionally articulate and detailed in their project scope and results. I truly commend all the effort provided by the organizers and mentors. Fantastic!"
In a post-program survey, the interns provided overwhelmingly positive feedback on their experiences, with 100% of the group ready to recommend JESSE to others. What did they love? Applied learning, industry access and new connections were the biggest highlights.
It was a "great opportunity to meet similarly minded engineering students and get hands-on experience working on engineering projects," said one student. Another liked the program because it "gives you a good glimpse into what engineering looks like professionally and it allows you to network and meet really cool people and mentors."
For more information, visit the College of Engineering website.