Louise Pagotto will retire as chancellor of Kapiʻolani Community College on December 31, 2022, after more than 34 years of work in higher education with the University of Hawaiʻi.
The native of Montréal, Canada, attended Marianopolis College and graduated in May 1971 with a BA in English, conferred by L'Université de Montréal, Canada. The next month, under the auspices of Canadian University Services Overseas, she began teaching at a high school in Papua New Guinea, and while there, learned to speak Tok Pisin, the local pidgin language. She returned to Canada to complete her masters degree in linguistics at McGill University, focusing her research on the syntax of Ojibwa, an aboriginal language in Western Québec.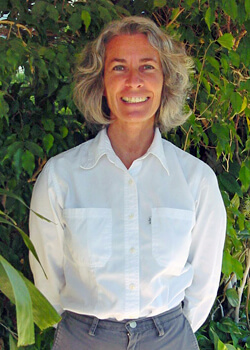 In 1980, Pagotto came to UH Mānoa as an international student. She received her doctorate in linguistics in December 1987, with a dissertation on Marshallese verbs, and is a co-author of Marshallese Reference Grammar.
She then continued her career, teaching English at Leeward CC. Beginning in 1989, Pagotto began teaching English composition and linguistics at Kapiʻolani CC, and throughout her long career there served as assistant dean for vocational and distance education; department chair of language arts; assistant dean of arts and sciences and academic support; vice chancellor for academic affairs, interim chancellor, and, on June 8, 2018, she was appointed chancellor.
"As soon as I stepped into a classroom in August 1971, I knew education would be my life's work," said Pagotto. "As soon as I started at Kapiʻolani CC in fall 1989, I knew this college would be my career home. And, it's been wonderful. This campus is truly special."
A learning champion
In June 1993, Pagotto won the Excellence in Teaching Award at Kapiʻolani CC, due to her ability to create a classroom space where students felt respected and motivated to do their best, where each student could be a participant in learning. She worked to enhance Kapiʻolani CC's multicultural offerings through her involvement in KAPE (Kapiʻolani Asian Pacific Emphasis). In the mid-90's, Pagotto coordinated Teachers Talking to Teachers about Teaching, a professional development program designed to provide a supportive space for more than 30 teachers from multiple departments to share their concerns and their promising practices. In the 2000's, she created a speaker series called THINK (The Hidden Intellectual Network at Kapiʻolani), so named by her colleague John Rand. Kapiʻolani CC faculty and staff were invited to present on their passions and expertise, including the recently minted dissertations of the faculty.
With funding from the Bob and Betty Wo and Jim and Juanita Wo Family Foundations, she shaped a professional development opportunity for faculty and staff, focused on investing in junior members of the academic community, renewing its senior faculty, and promoting the enrichment of all at the state's community colleges. Pagotto assisted in securing millions of dollars of extramural funding and helped to institutionalize undergraduate research in ways that allowed students to earn credit and faculty to be compensated.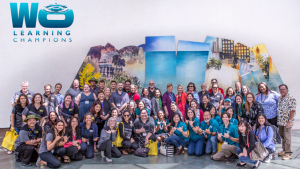 Pagotto extended her influence to the greater community by coordinating the Wo Learning Champions for more than 20 years, serving as a board member of the Community Colleges Leadership Development Initiatives Foundation, and chairing both the UH Commission on the Status of Women and the Women Leaders in Higher Education.
"Louise may be an Italian Canadian from Montréal, but between Papua New Guinea, Marshall Islands, and here in Hawaiʻi, she is a Pacific woman at heart," said Emeritus Vice President of UH Community Colleges John Morton. "At the college, what I will remember most about Louise is what she did with the Wo Learning Champions. She has created a fantastic professional development program."
World traveler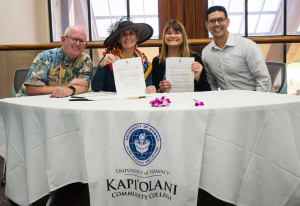 In 2019, continuing her commitment to students' achieving their potential, Pagotto established the Queen Kapiʻolani International Travel Scholars Endowed Fund in hopes of supporting Kapiʻolani CC students with expenses related to short-term international travel opportunities such as conferences, competitions, presentations and cultural events.
"My journey to the chancellor's corner office in ʻIlima has been filled with adventures of all kinds," said Pagotto. "I cherish memories of exceptional students, some of whom are now our faculty; of wonderful colleagues in all disciplines; of mentors who guided and inspired me; of amazing experiences overseas in China, Japan and Korea."
A world traveler and lifelong learner herself, in her retirement she intends to study veterinary assisting at Windward CC, to spend more time with her Montréal family, and to travel.
—By Susan Inouye, Susan Kazama and Lisa Yamamoto