Kapa, a barkcloth created by soaking and pounding the inner barks of the wauke (paper mulberry) plant, was an essential part of early Kānaka ʻŌiwi (Native Hawaiian) life, once used for clothing, baby swaddles, blankets and more. However, with the introduction of cotton in the 1800s, kapa became less prevalent—at one point, the skills for creating it nearly faded away.
Today, Kānaka ʻŌiwi artist and University of Hawaiʻi at Mānoa alumna Roen Hufford is a leading figure in carrying on the art of ka hana kapa (making barkcloth). For her leadership in reclaiming this traditional art form, Hufford was recognized as a 2023 National Heritage Fellow by the National Endowment for the Arts (NEA).
"It's a big deal to me that I have the ability and the knowledge to transform the inner bark of a plant into a work of art," said Hufford. "For me, receiving this recognition and this honor is verification that I've done something significant."
The National Heritage Fellowship is the nation's highest honor in folk and traditional arts. Since 1982, the annual honor has recognized individuals in more than 200 distinct art forms for their artistic excellence, lifetime achievement and contributions to the nation's traditional arts heritage. Hufford is one of nine artists selected for the 2023 class, and the nineteenth artist to represent the state of Hawaiʻi.
Carrying forth her mother's legacy
Hufford's artistic roots run deep—her mother, Marie Leilehua McDonald, was also selected as an NEA National Heritage Fellow in 1990, recognized for her mastery and scholarship in the art of lei-making.
Hufford credits much of her knowledge and beginnings in ka hana kapa to her mother. In the 1970s, McDonald had collaborated with a group of artisans to revitalize the art form. It was around this time at her mother's encouragement that Hufford began to learn how to pound kapa. While learning the art, Hufford also helped her mother cultivate patches of wauke and dye plants that they used for their kapa creations. Upon her mother's passing in 2019, Hufford inherited this ka hana kapa legacy and continues to advance the art to this day.
"When I found out that I received the fellowship, I cried," said Hufford. "It was an emotional thing—an honor that my mother foresaw that I could have to do this."
In the last 30 years, interest in kapa making has grown, and Hufford has been a leader in the effort. She hosts a weekly kapa hui (kapa group) at her farm in Waimea, where students can learn the art of ka hana kapa. She also takes great care in farming the plants that go into kapa, and shares wauke starters from her farm with other kapa makers in the community.
UH Mānoa roots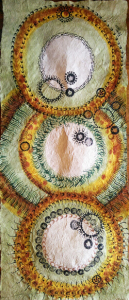 Hufford holds a BFA in ceramics from UH Mānoa's Department of Art and Art History. While studying at UH, she was able to take a variety of courses outside her major program, many of which continue to shape her and her work to this day.
"I was learning so much from other disciplines like botany, music or history," explained Hufford. "That really made an impact on me and my understanding of what I do now."
Hufford joins several other UH alumni in Accession: recent additions to the Art in Public Places Collection, an exhibit at the Hawaiʻi State Art Museum, where three of her kapa pieces are on display through the end of 2023. The museum is open Monday–Saturday, 10 a.m.–4 p.m. and admission is free.
For more about Hufford and the National Heritage Fellowship, visit the NEA website.
—By Alisha Churma