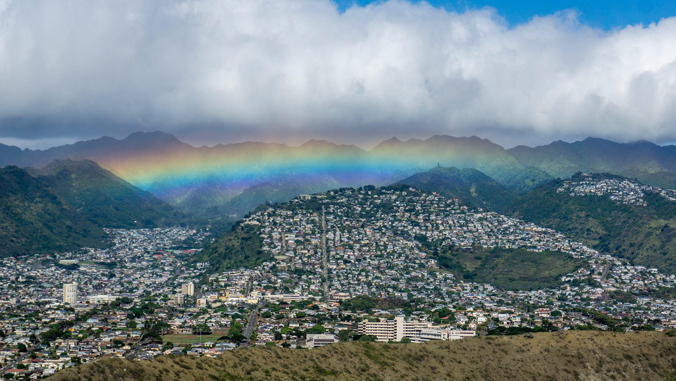 When Dennis Trotter was in middle and high school, classes were canceled multiple times due to the impending threat from hurricanes and tropical storms approaching the Hawaiian Islands. He took notice and after learning more about these storms, Trotter became fascinated by meteorology, and knew it was what he wanted to pursue after high school.
Born in Guam and having lived in Mōʻiliʻili, Oʻahu for most of his life, Trotter is the inaugural student in the Atmospheric Sciences Bachelor's and Master's (BAM) program in the University of Hawaiʻi at Mānoa School of Ocean and Earth Science and Technology (SOEST).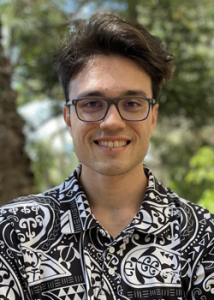 "I chose to do my degree in SOEST mainly because I wanted to stay home for school and UH Mānoa is not far from where I live," Trotter said. "The fact that SOEST offered atmospheric sciences really solidified my decision to pursue my degree at UH Mānoa."
SOEST atmospheric sciences professor and director of the BAM program, Christina Karamperidou, introduced Trotter to the BAM program toward the end of his sophomore year.
"I was interested in the BAM program because it offered a master's degree in less time, and the schedule to complete the program seemed reasonable," Trotter shared. "This program is preparing me well for a career in this field."
"We couldn't have asked for a more talented and driven student to be the first admitted to our new BAM degree in atmospheric sciences," said Karamperidou. "Dennis' exceptional academic achievements and passion for the field are a true testament to the quality of students we hope to attract in this program."
Investigating
Oʻahu's

rainfall

Beyond the classroom, Trotter conducts research with atmospheric sciences professor Giuseppe Torri to analyze the isotopic composition of rainfall around Oʻahu. With funding from the UH Mānoa Undergraduate Research Opportunities Program, they collect rain from multiple sites around Oʻahu on a weekly basis to understand how different weather systems affect the isotopic composition of rainfall.

"Isotope analysis is powerful because it can be used to study the water cycle on Oʻahu and other islands of similar climate, and it is useful in facilitating studies of past climate," Trotter said.

"It's been a great pleasure to work with Dennis," said Torri. "He is precise, very hard-working and extremely reliable. His contribution was instrumental in keeping the isotope collection going, and I'm really grateful for his work."
National Weather Service training
In addition to academic and research training, Trotter applied for and was accepted into the National Weather Service Pathways internship program. The internship provides a paid opportunity to work in the National Weather Service and explore federal careers while a student completes their education.
Trotter works on the Hawaiʻi Public Service Unit Desk during his internship—making sure products from the forecast office are being correctly transmitted, interacting with core partners and the public and making sure their needs are addressed.
"I have always been curious about the day-to-day work life of a weather forecaster so the most impactful part of the internship, so far, has been learning about the daily operations in the National Weather Service," Trotter said. "I'm learning about the work environment during different situations, for example a day with storms versus a clear day; the amount of coordination needed among forecasters during a shift; and how to use the software that the forecasters use."
In May 2023, Trotter will complete his bachelor's degree requirements and is on track to finish the BAM program in spring 2024.
"I hope to be working in the operational meteorology field when I graduate," Trotter said. "With the academic, research and training experiences I've had, I really hope to stay in the National Weather Service. So many people rely on up-to-date and reliable weather information. It's really satisfying to think of providing that to the communities in Hawaiʻi and across the Pacific."
–By Marcie Grabowski