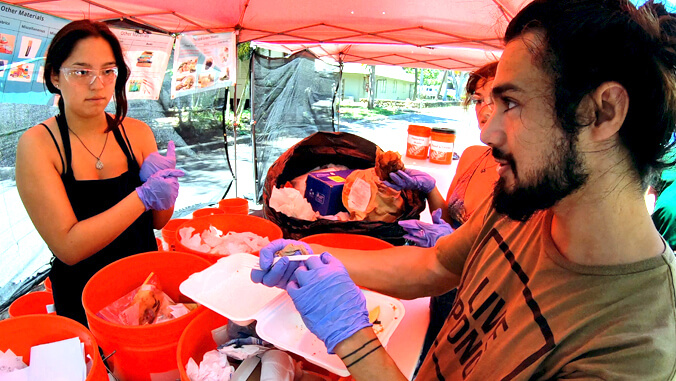 In celebration of Earth Day, the University of Hawaiʻi Office of Sustainability conducted a waste audit of six buildings on the UH Mānoa campus on April 21. Dozens of students, faculty and staff participated in the event of sorting, sifting and counting trash in garbage and recycling bins.
Volunteers sifted through the garbage and placed the items in categorized buckets. Teams would later weigh and measure the trash in each category.
"So what we're trying to do is design interventions to cut down waste and we need data to do it. So that data all starts here," said Navin Tagore Erwin, UH zero-waste coordinator.
Students said the audit helped them realize the importance of looking at ways to reduce waste.
"Where we live it's really important to focus on how we approach the waste that we throw away," said UH Mānoa junior Kendrix Jademeadow. "Sustainability in general is important to all of us."
"It's kind of crazy to see how much trash are things like wipes and single-use items," UH Mānoa junior Sasha Numazu-Fisher said. "A lot of what we are finding are things that people don't even use; things like wrappers and such."
Related: UH campuses host events to celebrate Earth Day 2023, April 2023Organizers hope the audit and ones that will be done at all of the buildings this year will help give a comprehensive look at the waste created on the campus.
"Pretty much the start of a zero-waste institution starts with figuring out what we're doing to begin with," Tagore Erwin said. "So this is really step one and we've got a long way to go. But we've also got a whole lot of potential."
The organizers will provide campus leaders with the data to help determine how to improve trash organization, recycling and waste reduction.
The trash was collected at George Hall, Crawford Hall, Saunders Hall, Hawaiʻi Hall, Shidler College of Business and the Queen Liliʻuokalani Center for Student Services.