University of Hawaiʻi campuses are celebrating Earth Month with events scheduled throughout April, and Earth Day, April 22.
This story will continue to be updated as campuses announce their events during the month of April.
UH Office of Sustainability
April 17: Recycling Drive, 10 a.m.–4 p.m., Student Housing Hale Aloha Courtyard
April 18: Earth Day trivia, 6–8 p.m., Gilmore Hall
April 19: Arboretum Appreciation Day, 2–5 p.m., Bachman Place
April 20: Mala Workday, 2–5 p.m., Sustainability Courtyard
April 21: Sustainability Courtyard
Earth Day Fair, 10–2 p.m.
Waste Audit, 10–4 p.m.
April 23: Community Workday, 9 a.m.–12 p.m., St. John Plant Science Lab
UH Mānoa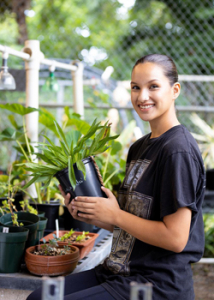 The Institute for Sustainability and Resilience has partnered with Kanu Hawaiʻi to promote the Pledge To Our Keiki. UH students, faculty and staff are encouraged to sign the pledge to lend their voices and support to protect Hawaiʻi for generations to come.
April 22: Pledge To Our Keiki is part of an initiative to celebrate Earth Month. Earth Day, on April 22, will culminate with leaders across Hawaiʻi signing the pledge at the Capitol. The pledge provides participants with volunteer opportunities across the islands with events such as beach cleanups, loʻi workdays, mentorship programs and more.
April 18: UH Mānoa will also host Amitav Ghosh, an award-winning Indian author, environmentalist and climate activist. Hosted by the UH Better Tomorrow Speaker Series and the UH Mānoa Center for South Asian Studies, Ghosh will present the in-person lecture, "The Nutmeg's Curse: Climate, Colonialism and Global Geopolitics." The presentation is free and open to the public, and will be held Tuesday, April 18, at 6:30 p.m. in the Art Auditorium on the UH Mānoa campus. (Register online)
UH Hilo and
Hawaiʻi

Community College

April 17–23: UH Hilo and Hawaiʻi CC, in partnership, are celebrating Lā Honua (Earth Day) 2023 with both in-person and virtual events throughout the week of April 17–23, all related to this year's theme, "Indigenous Food Sovereignty."

April 17: The week's events will open with a kīpaepae (opening ceremonies) and chancellors' welcomes at the Hawaiʻi CC Manono campus on April 17.

April 24: Throughout the week keynote presentations will focus on Indigenous food sovereignty. April 24 will feature a māla (gardens) day with events held at all three UH campuses on Hawaiʻi Island: Hawaiʻi CC's Pālamanui campus in Kona, Hawaiʻi CC's Manono campus in Hilo and UH Hilo.

On April 22, Lā Honua Community Day will be held at Hawaiʻi CC's Manono campus in conjunction with the Hawaiʻi Community College Day.

On April 23, students and faculty will participate in service to the ʻāina through Mālama ʻĀina huakaʻi (field trips), engaging with the community in places where Indigenous food sovereignty is underway.

For more information, see the UH Hilo website.
Windward Community College
April 14: Windward CC presents Mālama e nā ʻāina a pau, an Earth Day celebration supported by ʻAo Kahi and Windward CC's sustainable agriculture program sharing local resources, plants, career opportunities, food and recipes.
When: Friday, April 14, 11 a.m.–1 p.m.
Location: Hale Uluwehi
Each participant will receive a free plant (while supplies last)
Learn about food plants and native plants from Windward CC's sustainable agriculture students
Tour Windward CC's student farm plots and native plant gardens
Visit the fish in our new aquaculture tanks
Eat locally sourced foods
Learn about other Windward CC groups promoting earth care
Learn about internships and jobs with Windward environmental conservation organizations
The event is supported by ʻAo Kahi Native Hawaiian Career and Technical Education program sponsored by ALU LIKE, Inc. and funded through a grant from the U.S. Department of Education.
Students can explore internships and jobs with some of the local groups working to make Hawaiʻi more sustainable and resilient.
For more information about the Earth Day celebration or sustainable agriculture, contact Jolie Dollar at jolied@hawaii.edu.
Leeward Community College
April 20: The Sustainability Committee is hosting a film screening and discussion (with free snacks) on April 20, 12 p.m.–2:15 p.m. at ED-201.
Dark Waters (2019) informs our understanding of how to protect our islands from the recurring spills of PDAS "forever chemicals" at Red Hill and beyond as long-term environmental justice. The event is hosted by the Sustainability Committee and co-sponsored by Oʻahu Water Protectors. Email Natalie with any questions nwahl@hawaii.edu.
Kapiʻolani

Community College

April 11: Sustainability Fair

The Board of Student Publications is inviting the community to celebrate Earth Day and Native Hawaiian Plant Month at this year's Sustainability Fair, on April 11, 11 a.m.–3 p.m. on the Great Lawn.

April 20: Kapiʻolani CC Ecology Club Seed Giveaway

As a way to encourage our community to garden and grow, the Ecology Club is hosting a seed giveaway. Please visit us at Makahiapo, Great Lawn, Kapiʻolani CC Campus.

April 21: Sustainability Across the Curriculum Celebration and Virtual Forest Bathing

Join us in activities like virtual forest bathing, a celebration for sustainability across the curriculum, student panel discussions, guest presentations and a talk story.

April 22: Mālama Māla Māunuunu Workday

This event is focused on continuing the active restoration and cultivation of ʻĀina resources, and will be followed by a Apu Niu workshop. The Mālama Māla Māunuunu workday is with Kohlby-Vincent Soong Title III Part A, Kūloaʻa: Advancing Indigenous Innovator Grant.

For more information, see the Kapiʻolani CC website.
Kauaʻi

Community College

April 17, April 28: Marine Biology student presentation in the One Stop Center.

April 19: Kick Off Event with Kauaʻi CC Hawaiian Club and Sustainability Committee, 12 p.m–2 p.m. in the Hawaiian Studies Building.

April 21: Campus Give Back Event, 12 p.m–2 p.m. at Kauaʻi CC Loʻi and Farm

April 22: Hoʻolauleʻa No Ka Honua, a celebration for the Earth, 10 a.m.–2 p.m. at Kauaʻi CC Imu
UH Maui College
April 19: UH Maui College is excited to host a great Earth Day celebration on Wednesday, April 19 from 3–6 p.m. The college's Student ʻOhana for Sustainability Club is partnering with Maui Huluia Foundation to host this expanded event on the campus Great Lawn.
Other highlights include information about educational, career and volunteer opportunities both at UH Maui College and with sustainability groups island wide; giant yard games; food from Maui Fresh Streatery food truck; and more. Tours of the campus Aquaponics Greenhouse and Kauluwehi Ethnobotanical Garden will be given from 4–5 p.m.
The public is invited to come join us in celebrating our planet and learning about ways we can all make a positive impact on our environment.
UH West
Oʻahu
More information TBA.
Honolulu Community College
More information TBA.