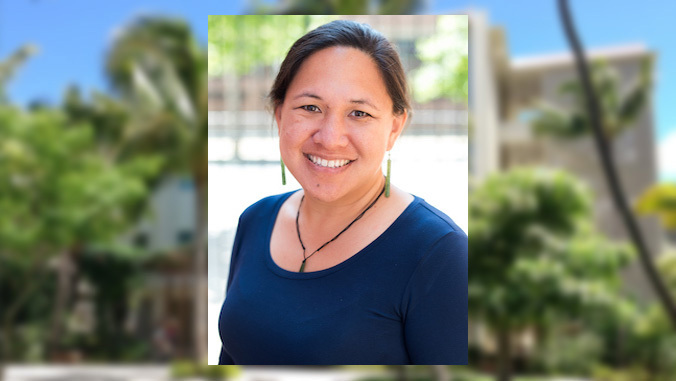 Assistant Professor Donna-Marie Palakiko of the Nancy Atmospera-Walch School of Nursing (NAWSON) at the University of Hawaiʻi at Mānoa is one of 16 nurse scientists accepted to the fourth cohort of the Betty Irene Moore Fellowship for Nurse Leaders and Innovators. This fellowship program recognizes early- to mid-career nursing scholars and innovators with a high potential to accelerate leadership in nursing research, practice, education, policy and entrepreneurship.
As part of the three-year fellowship program, fellows receive $450,000 to conduct an innovative project or study with the potential to address a gap in knowledge, meet a vital need, alter care delivery or design a new solution to advance health.
Palakiko's project focuses on addressing asthma inequities among Native Hawaiians through the implementation and testing of a culturally tailored mHealth tool.
"We are very excited that Dr. Palakiko was selected for this nationally competitive fellowship program. Her research goals and career trajectory are aligned with our university mission as well as the fellowship's mission and we are excited to see the future impact Dr. Palakiko's work will have in our community," said Clementina D. Ceria-Ulep, dean and The Queen's Health Systems Endowed Professor at NAWSON.
In addition to the project, the fellowship program features a hybrid online and classroom curriculum designed and taught in partnership with the UC Davis Graduate School of Management and national experts to enhance leadership and innovation capacity, strengthen strategic thinking and collaborative skills, expand professional networks, develop entrepreneurial skills, and propel innovative ideas to fruition. A mentor selected by the fellow and an additional mentor provided by the national program office round out the educational experience.
"Our fellows go on a unique journey of self-discovery during their three years in the fellowship program in which they delve deeper into their roles as leaders and discover methods for spearheading change and promoting more equitable health care practices for their populations of interest," said Heather M. Young, national program director for the fellowship and Betty Irene Moore School of Nursing at UC Davis dean emerita. "These fellows are the next generation of nursing leaders, and they have immense potential to transform the nursing profession and improve health equity and health care services."
The fellowship program is made possible by Betty Irene Moore's passion to advance nursing with the goal of better outcomes for individuals, families and communities. Applications for the 2024 cohort of Betty Irene Moore Fellows open September 22. Learn more about the program.