The Regents' Medal for Excellence in Teaching is awarded by the Board of Regents as tribute to faculty members who exhibit an extraordinary level of subject mastery and scholarship, teaching effectiveness and creativity and personal values that benefit students.
Rosanna Alegado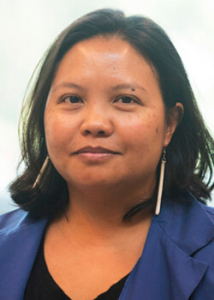 Rosanna Alegado is an associate professor of oceanography in the University of Hawaiʻi at Mānoa School of Ocean and Earth Science and Technology (SOEST). Her work involves meaningful academic collaborations and partnerships with Indigenous communities.
She led SOEST's significant curriculum revision toward a required immersive course to ground all incoming graduate students in an understanding of working as marine biologists within Hawaiian culture. Its success has been recognized by the National Science Foundation with multi-year funding to foreground Indigenous knowledge, practices and values, and to transform and Indigenize higher education in STEM.
Alegado is regarded as an influential educator for other teaching faculty, as well as her students. She said, "By challenging my students to integrate multiple didactic frameworks, one can achieve the most comprehensive understanding of a subject."
Her colleagues say that "Rosie is not popular by being easy," and that "her efforts are the epitome of teaching exceptionalism."
Tammy
Hailiʻōpua

Baker
Tammy Hailiʻōpua Baker is an associate professor of theatre and dance in the University of Hawaiʻi at Mānoa College of Arts, Languages & Letters. As a steward of Indigenous knowledge, she fulfilled that kuleana (responsibility) by building the Hawaiian Theatre Program, the only one of its kind focused primarily on performance.
A colleague, who was also her student in Hawaiian language, views the experience of acting in her productions as a master class in pedagogy. "Professor Baker is continually supporting students and others in the production of 40 performers in speaking and singing lines individually and collectively. [She was] clearly the director throughout, nevertheless each actor (students) and production staff (teachers) were all made to feel their work was necessary and appreciated."
Baker is internationally recognized, the first from Hawaiʻi to receive the Kennedy Center's Medallion of Excellence. A reviewer of her plays describes them as "guides to restoring language and reclaiming the stories of generations of Indigenous populations; gifts to a culture whose language and history have been suppressed. Her transformative work shines through the passion, voice and aloha spirit of her students."
Richard C. Chen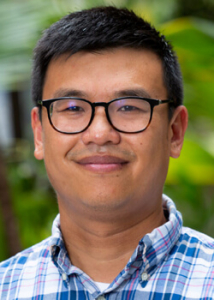 Richard C. Chen is an associate professor at the William S. Richardson School of Law at the University of Hawaiʻi at Mānoa. He brings patience and empathy to all his interactions with students, never assuming the problem is with the students. This tenet is a teaching practice that extends into a way of modeling for the students as they enter the profession of law, as lawyers who seek to listen, learn and improve throughout their careers.
A cohort of 19 evening students for four straight semesters signed an enthusiastic letter of support for Chen, stating they "collectively hope that our endorsement can begin to illuminate our appreciation of his talents as an educator and the positive impact he made during the formative stages of our legal education."
A colleague stated, "Who wouldn't want to be in his classes? He is a professor whose empathy, kindness, brilliance and skill shine through in everything he does and it is elevating, inspirational and contagious."
Lincoln A. Gotshalk
Lincoln A. Gotshalk is a professor of kinesiology and exercise science in the University of Hawaiʻi at Hilo's College of Natural and Health Sciences. He is a musculoskeletal physiologist, anatomist and exercise physiologist with a strong background in muscular strength and power training and total body systemic response to exercise and stress.
He advises students, and teaches anatomy and physiology, research methods, nutrition and the science of diet and weight control, basic and advanced kinesiology courses, physiology of exercise and the science behind athletic training programs. Gotshalk is the director of the Laboratory for Exercise Sciences, which manages concurrent research projects.
"Dr. Gotshalk most definitely has the ability to make every student feel appreciated and an important part of both the classroom and the lab group," noted a nominator. "The experiences I have gained are ones I will never forget and I am thankful for all he has done to help me find my place in the UH Hilo community."
Karadeen Kam-Kalani
Karadeen Kam-Kalani is a professor of speech at Honolulu Community College. Her teaching philosophy recognizes that positive encouragement goes a long way in helping students gain the confidence they need to become better public speakers.
She is an inspiring and motivating instructor who strives to provide an environment for her students to foster self-discovery, steady improvement and growing confidence.
One student, self-conscious about his stutter, was nervous about taking a speech class. In Kam-Kalani's course, however, he learned to take a breath between sentences, use hand gestures to complement his talking points, and engage his audience with thoughtful questions. Her positive feedback helped him to improve his speaking capabilities.
The highlight of his learning journey came when one of his speeches was chosen as an example for other students to emulate. When he was asked how this recognition made him feel, his face lit up and he said, "I felt awesome!"
Tiffany-Joy Kawaguchi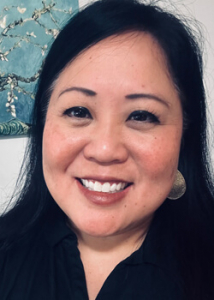 Tiffany-Joy Kawaguchi, serves as the program director and interim academic fieldwork coordinator in the occupational therapy assistant (OTA) program at Kapiʻolani Community College. Kawaguchi is an occupational therapist (OT) with more than 22 years of experience.
In 2015, Kawaguchi started a federally funded pro-bono clinic for the OTA program based on her belief that through doing, students become what they have the capacity to be. She utilizes meaningful experiences and intentional practice opportunities to help students access and then apply critical pieces of information to the OT process.
"Dr. Tiff is undeniably dedicated to enabling her students to succeed," said an OTA program student. "She accommodates numerous learning styles, grades fairly and offers detailed feedback so we know how to improve. Despite the endless list of things she has to do, she makes each one of us feel valued."
In 2016, Kawaguchi received the Laura N. Dowsett OT of the Year Award from the OT Association of Hawaiʻi and was selected to represent Kapiʻolani CC in the inaugural Hawaiʻi Association for Career and Technical Education Emerging CTE Leader Program in 2018. In 2021, Kawaguchi was awarded the Francis Davis Award for Excellence in Undergraduate Teaching.
Kamuela Kimokeo
Kamuela Kimokeo is the director of the Hawaiʻi Music Institute and head of the music program at Windward Community College, where he teaches ʻukulele and slack key guitar. He created the groundbreaking Kaʻohekani Hawaiian music certificate–a series of 8-week online classes taught by some of Hawaiʻi's legendary artists.
Kimokeo shares his passion for music and instills in his students the joy of learning.
"I've come away from his courses a better musician and have a much better understanding and appreciation for the music of Hawaiʻi," said one student. "I am very proud to say that I have composed my own song."
The American Educational Research Association recently recognized Kimokeo for his research on song composition and performance as educational tools of personal empowerment. He earned his PhD in curriculum and instruction with a music emphasis, and his MEdT from UH Mānoa.
Kimokeo performs with Jerry Santos and his own Nā Hōkū Hanohano award-winning group Hiʻikua.
Monica LaBriola
Monica LaBriola is an assistant professor of history in the University of Hawaiʻi at Mānoa College of Arts, Languages & Letters. Her work focuses on engaging, yet challenging approaches to the area of Pacific studies, at the forefront of instructional excellence at UH Mānoa, while touching lives beyond the academic community.
At public forums and conferences, LaBriola draws diverse cultural workers passionate about the Pacific region as well as academics. Her guidance and vision on the development of resources in this area is praised by a colleague, who said that LaBriola's editorship of Teaching Oceania has impacted education across Hawaiʻi, the Pacific, nationally and internationally.
She initiated and led two cohorts of Women in Pacific Studies, and is lauded by colleagues and students for successfully supporting the education of the student community experiencing the least educational equity at UH Mānoa and across the UH System.
A cohort member wrote, "Professor LaBriola acknowledges the complexity of the university and encourages us to continue in academia while also dreaming of alternatives to knowledge production and dissemination."
Donald K. Maruyama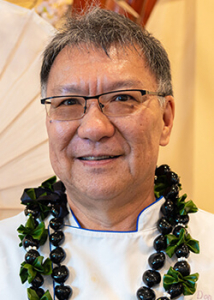 Donald K. Maruyama is a culinary arts professor at Leeward Community College. Prior to joining Leeward CC as a chef instructor in 2007, he spent more than 20 years in the food and beverage industry.
He served as the culinary arts program coordinator from 2016 to 2020. For the past three years, Maruyama has been the professional arts and technology division chair, overseeing the automotive technology, culinary arts and digital media programs.
"Don's strength as an instructor is his enthusiasm to share his personal experiences to his students about how true and real it is working in the industry as he does not sugarcoat," said Ron Umehira, dean of career and technical education. "His strengths as a program and division colleague are his patience to listen, gather the facts, analyze and then support the best course of action."
Maruyama attended Kapiʻolani Community College, the University of Hawaiʻi at Mānoa and Grinnell College. He currently serves as a Hawaii Culinary Education Foundation advisory board member, Hawaii Food & Wine Festival committee member, and on the board of directors for Hawaii Restaurant Association Education Foundation.
Summer Maunakea
Summer Maunakea is an assistant professor in curriculum studies in the University of Hawaiʻi at Mānoa College of Education. She grounds her teaching practices in academic rigor, agency and aloha. A colleague described observing her as "expertly weaving place-based teaching and learning, ʻāina (land)-based education and stewardship and Indigenous epistemology and practice."
She holds herself to high expectations as a teacher, knowing her instruction must have a positive intergenerational impact for students to grow holistically into healthy individuals capable of making pono (righteous) decisions and contributing to their communities.
"For me, this is what love looks like in education," said a graduate student. "The love and community that Professor Maunakea cultivates in the classroom supports immense intellectual experimentation and risk taking. I am immensely grateful for her teaching."
To a senior colleague, her teaching, research and service are considered to be "visionary, meaningfully advocating for Indigenous education, sustainability, eco-justice, inclusive outdoor education and school-community partnerships."
Alexander Stokes
Alexander Stokes is an assistant professor of cell and molecular biology at the John A. Burns School of Medicine at the University of Hawaiʻi at Mānoa. They developed practices to create inclusive, rigorous classroom settings with each student fully engaged. One method, Problem-Based Learning, values students directing their own learning, developing team-learning skills and assuming very active roles in their education.
Stokes developed a tool kit for inclusive pedagogy reflecting under-represented, predominantly female, low-income, first-generation students in undergraduate classes. A student said, "Professor Stokes utilizes a cutting-edge hybrid teaching style that unlocks students' intellectual potential by acting as a conductor of a symphony in a collaborative learning orchestra. I was imbued with a passion and was inspired to further academic pursuits."
A colleague said, "Alex is that professor, the one who transports students to a new view of themselves. Stokes is a leader in pedagogical innovation at the interface between biology, biomedicine and data science education in Hawaiʻi."
Shawn Sumiki
Shawn Sumiki is an instructor of culinary arts at Hawaiʻi Community College. Known for his outstanding work ethic, calm demeanor and generosity, Sumiki has taught at Hawaiʻi CC since 2008 and is an alumnus of the program he now leads.
Culinary Arts students value his talent and experience, and appreciate the positive environment he creates in the program.
"Chef Shawn is an incredible teacher, and I am so grateful to have him as my culinary instructor," one student wrote in support of his nomination. "He creates a friendly environment around him that encourages learning and growth."
Sumiki is very supportive of campus events and collaborates frequently with community partners on opportunities that provide students with real-world experience and networking in the food and hospitality industry. He has donated his time and talent preparing meals to support disaster relief efforts on Hawaiʻi Island. In 2019, Sumiki was honored with the Hawaiʻi Community College Outstanding Service Award.
Maureen Tabura
Maureen "Mo" Tabura is an assistant professor in the nursing program at Kauaʻi Community College and has been teaching for more than 17 years. She has been the nursing program coordinator since 2016. She and Division Chair Tammie Napoleon are the face of the Kauaʻi CC nursing program.
"Professor Maureen ʻMoʻ Tabura is one of a kind. Her commitment to teaching is immeasurable," said nursing student Ma Suerte Rebucal. "She is not only excellent in imparting her knowledge through her life-changing lectures, but she brings out the best in us. I have encountered great lecturers as well as teachers who bring out the best in their students, but I have never seen someone who does both except for Professor Mo."
Tabura earned her BS of Nursing at the College of New Jersey, and her Masters in Nursing Education from UH Mānoa. She was a UH Community Colleges Leadership Champion from 2011 to 2012. She has been a board member of Kauai United Way since 1996, receiving the Founders Award in 2008. Tabura also served on the Kauaʻi County Board of Ethics from 2014 to 2018.
Eli Tsukayama
Eli Tsukayama is an associate professor of marketing at UH West Oʻahu. His research focuses on understanding individual differences (e.g., personality traits) that can be used to segment and understand target markets. He has an extensive background in statistics as well as seven years of experience working in the corporate world as an Information Technology consultant.
One of Tsukayama's students said, "Although I was nervous in the beginning with his reminder of how hard the course was, I decided to stick it out and I'm glad I did because I learned a lot of life lessons from him—to take criticism as a lesson, or how to properly ask qualitative and quantitative questions."
Tsukayama was among the authors of "A megastudy of text-based nudges encouraging patients to get vaccinated at an upcoming doctor's appointment." The paper was published on April 29 in the Proceedings of the National Academy of Sciences, the official journal of the National Academy of Sciences and one of the world's most-cited and comprehensive multidisciplinary scientific journals.
Rosemary Vierra
Rosemary "Rosie" Vierra is a professor and the coordinator for UH Maui College's dental hygiene program. She has taught in the program since 2008. Many students attest to Vierra's dedication and passion for the success of her students as evident in the hours she spends teaching, coordinating and striving to elevate the program.
One student described Vierra's authentic concern for student well-being and success: "She always puts the students first and makes us feel like our voices matter. She not only cares about our success but also our personal well-being. She is a big advocate for mental health, which I appreciate very much."
Vierra's energy and connection with the community enable her to create enriching learning opportunities such as service learning, outreach to public high schools and partnerships with businesses and organizations that provide students valuable experiences in the field.
One student said, "Since the beginning of our cohort in the fall of 2021, she has gone above and beyond for us students to succeed. Her priority is always to help us succeed, whether it's volunteering to help us meet our clinical requirements to finding us patients."