The Frances Davis Award for Excellence in Undergraduate Teaching, for faculty and a graduate assistant, recognizes dedication and demonstrated excellence as teachers of undergraduate students. It was established as a memorial to the late Frances Davis, who taught mathematics at Leeward Community College and the University of Hawaiʻi at Mānoa for 19 years.
Katherine Aumer
Katherine Aumer is an associate professor of psychology at UH West Oʻahu. She joined the social sciences division in August 2020. Aumer serves as the consulting editor for the Journal of Cultural Diversity and Ethnic Minority Psychology, on the UH West Oʻahu Budget and Resource Committee, and on the Hawaii State Council on Mental Health.
A student called Aumer a "warm and willing professor." They said her strengths include her promptness in responding to emails and concerns for students. "I struggled with testing and she took the time through email correspondence to help me find other ways to help me study," they said.
Aumer has published several books and chapters on emotions and the methods of studying emotions, and numerous articles regarding the application and exploration of emotions science, regulation and care delivery. Prior to joining UH West Oʻahu, Aumer was the chair of the Psychology Department at Hawaiʻi Pacific University.
Leanne Day
Leanne Day is an assistant professor of English at UH Hilo. Her areas of specialization and research include settler colonial studies, Asian American literature and cultural studies, Hawaiʻi literary and cultural studies, Pacific Island literatures and ethnic studies. She is interested in introducing her students to writers and poets from Oceania who use not only traditional writing but also multimedia posts on social media as a platform for social activism.
"She encourages a highly collaborative classroom, emphasizing open conversation between students as a means to learn," said a nominator.
"What Dr. Day does so well in her classroom contributes vitally to student retention and success at UH Hilo, and so do her invaluable contributions to strengthen the English program by teaching high-quality courses that empower student learning and critical thinking," wrote another.
Day was the inaugural Daniel K. Inouye postdoctoral fellow at UH Mānoa, and did her postdoc at Brandeis University in Waltham, Massachusetts, where she helped build an Asian American and Pacific Islander studies program. Her latest publication is Plantation Housing Isn't the Answer to Homelessness in Hawaiʻi.
Aaron Hanai
Aaron Hanai is an associate professor of engineering in the STEM Program at Kapiʻolani Community College. He spent eight years as a systems engineer for a small business in Honolulu specializing in autonomous underwater robotics before giving teaching a try in 2011. The personally and professionally rewarding experience was unexpectedly transformative, resulting in a permanent career change.
He is passionate about undergraduate research experiences that provide his students with both the technical and soft skills necessary to succeed in their STEM careers. Hanai constantly looks for ways to integrate sustainability and ʻāina-based learning into the curriculum, always finds a way to incorporate K–12 STEM outreach in project activities, and loves to work across disciplines with his colleagues.
"His passion for teaching is self-evident, and he is a tireless advocate for undergraduate research, which affords underrepresented STEM students opportunities that simply would not exist in his absence," said a colleague.
Hanai earned a BS in physics and an MS and PhD in mechanical engineering from UH Mānoa.
Kalikoaloha Martin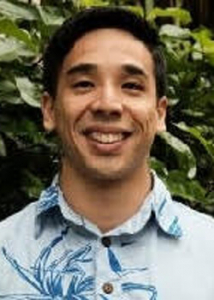 Kalikoaloha Martin is an instructor in the Kawaihuelani Center for Hawaiian Language at the UH Mānoa Hawaiʻinuākea School of Hawaiian Knowledge. He encourages students, including undergraduate and graduate students and faculty colleagues pursuing Hawaiian language proficiency, to get uncomfortable with trying out their ʻōlelo, until they get comfortable.
Through this practice, Martin realized that "unbeknownst to me, collectively stepping outside of their comfort zone, students depend on one another, deepen their friendships with their classmates and foster rapport that is unbreakable." A student wrote, "As a leader, Kumu Kalikoaloha's great strength is his ability to empower others to lead."
A colleague who teaches the next level Hawaiian language shares first-hand knowledge that Martin's students consistently excel, leaving his class with a well-grounded grasp of the language and culture and a spark of energy to continue further. Another colleague who studies with him reflects, "This course is difficult, and it is also very clear. What makes it rise above the rest is Kalikoaloha himself."
Orlo Steele
Orlo Steele is an associate professor of science who teaches in the Tropical Forest Ecosystem and Agroforestry Management program at Hawaiʻi Community College. Known as a patient, thoughtful and "extremely knowledgeable" instructor, Steele brings a wide diversity of experience to his teaching, from work with rural communities in Guatemala to botanical surveys throughout the Pacific Islands.
With his expertise in Hawaiʻi's native forest ecosystem and knowledge of agroforestry operations, Steele makes science exciting and relevant for a diverse range of students through engaging lectures and extensive field work.
A student said, "He also takes us on many different excursions, and we do a lot of hands-on field work and lab work," which "helps the knowledge stick."
Steele has established valuable relationships in the community and with local industry, which allows him to provide students with on-the-job training and networking opportunities with potential employers. He earned his PhD in botany from the UH Mānoa, and has taught at Hawaiʻi CC since 2007.
Manca Sustarsic
Manca Sustarsic is a PhD candidate in education with a concentration in educational foundations in the UH Mānoa College of Education. She is a passionate educator with a commitment to cultivating critically minded, culturally sensitive and empathetic members of society.
Sustarsic has teaching experience at the K–12 and college levels. In 2022, she taught an advanced undergraduate course, Education in American Society, in which students explored the historical, political and sociocultural contexts of education. She ensured that her curriculum and lessons drew connections to education history, culture-based learning and current issues in education in Hawaiʻi.
After taking Sustarsic's class, students expressed they felt one step closer to becoming the teachers they wanted to be. They appreciated her passion for education and her ability to make complex topics engaging.
Her teaching philosophy centers around fostering learners' critical consciousness, collaboration and respect for diversity. She strives to create a classroom environment inclusive of a diverse group of learners who each contribute to our intellectual growth and cultural sensitivity with their unique experiences and perspectives.